Taylor Hicks' Idol Blues was treated yesterday to a swarm of angry, cawing fans following my post written as a rejoinder to the statements and topics I had reviewed lately at the Caroline Lyders Fan Club. It seems they cannot let MFOYA go.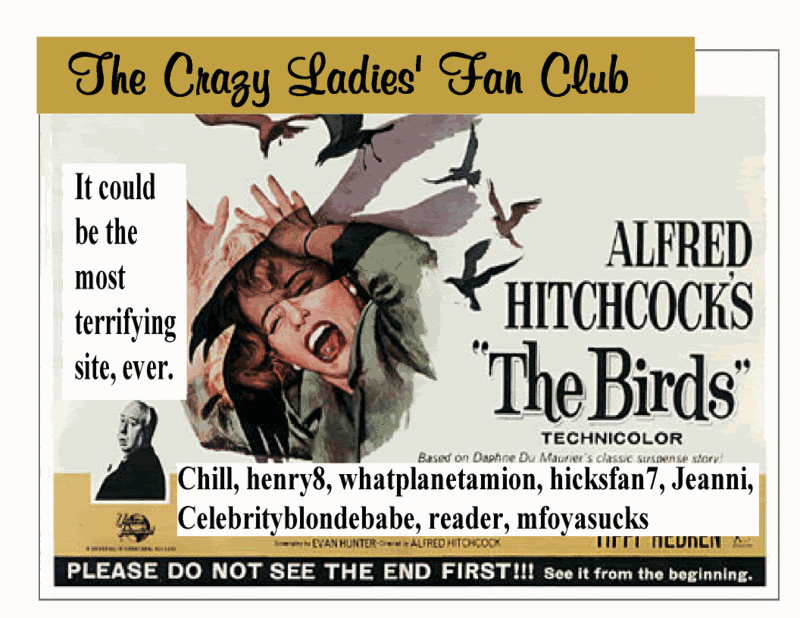 It has become so ingrained in this group's psyche to HAVE to have someone to hate, rather than "Somebody to Love" as sung by
Queen
, that they grow restless, unhappy and discontented. I turned in last night and let them parTay on through the night without me. I had a real man to go tuck in you see...
Taylor Hicks, if the poor guy has any knowledge of the ongoing vicious and shrill harpies over at the Crazy Ladies' Fan Club, and my relationship with them, must be either laughing his ass off or groaning in embarrassment - or both. It's interesting to me how their minds seem to operate much like those organized attacks of the crows in that Alfred Hitchcock thriller. They feed on the same conscious streams of thought. One idea that fits nicely in their tortured minds, they should be able to write anything they want and it should be viewed as proper and intelligent. Above all, socially right and acceptable. They seriously believe they are being held as high example to the other Taylor Hicks' fan sites and their antics and activities seen in a positive light. One other thought process I experienced as I watched them, they honestly believe it is absolutely fine to insult others, cast their stones but none allowed to fall their direction or the person responding must be crazy. It's not crazy that they rant and rave, no that's normal to them. Too, as seen in yesterday's post, there was nothing to do with Taylor Hicks, personally, yet many are in my comment box right now fonting (hahaha) away how I have said so many hateful things about Taylor Hicks. Seeing as how yesterday's post was about them...are they so vested as fans as to think that somehow
they
ARE
Taylor Hicks? It happens.
Taylor Hicks enthusiasts, certainly, but also individuals with obvious issues concerning their pragmatism, humor, and perhaps, intelligence. Sense of fairness or justice are completely absent rather like that of the lack of conscience seen in a sociopath. Sociopathic people are able to go out and commit crimes and feel no remorse, these folks harassing me seem to all have in their souls that same trait.
Taylor Hicks obviously, as a performer and artist needs fans, and I am sure these gals are some of his most ardent. I am put in mind, easily by the type of folk who followed Jim Jones, or David Koresh.
Blind and mindless loyalty, driven by a passion born of perhaps having a kink or break present along that long and winding DNA strand. These Fanatics believe strongly in their site's leader being able to censor comments, to insult other folks, and manipulate commentary to her whim. They have big fun laughing at the commentary left in this Chill's little spam box, yet if I do the same on my site simply because the comments are boring, name calling and saying things that have nothing to do with the post, they find that unfair. Some left me many messages repeating the same things... Rinse, wash repeat. Henry8 and reader are currently in the holding room because their only contribution was to call me insane repeatedly and how I have shown my True Colors. I said, "What"?
In Reality, if they could visit that enchanted Isle, they would see how completely ridiculous and pathetic their hammering their little fists against my comment box looks, and how quite possibly the insanity should be attributed to themselves. Henry8 and this reader spend countless hours on my site. Reader was habitually copy and pasting posts off of this site to Splash for quite a while. That individual is more obsessed with me than is really comfortable, but thankfully they live a distance from Texas.
Taylor Hicks Blues has been a site in which I have enjoyed blogging out of for a long time. It began just about Taylor but as real news and information about the guy became scarce or repetitive, I chose to talk about other musical interests. For now though, this site has been intrigued with that bastion of Fanatics on the Caroline Lyders Fan Club. It's like nothing I have ever witnessed before.
For now, this story about these Taylor Hicks fans continues. It is a part of the man's career and I'll continue to work it to see where it goes. My Darling Man has a few concerns about what he's read in the comment box. He feels that many of the contributors really and seriously have more than one strand crossed in their DNA jungle. I'm not intimidated by the likes of these on-line cyber-bullies and their witless leader. I've not committed any 'crime' against Taylor Hicks, but like those witch hunters in Salem, who were convinced innocents were evil and burned them at the stake, these cyber marauders continue to harass me. Chill, the Caroline Lyders' Fan Club leader even wrote in one of her comments she liked the comparison, their being "witch hunters" not realizing the implications of her words.
Regarding the Fanatics and their time in the Sun yesterday, I think I provided what they craved and needed - somebody to hate. I fed them the nourishment their combined tortured souls demand. As my comment box began to fill with the same words, reading through some of their identical postings on Chill's they kept repeating yesterday, of that Alfred Hitchcock movie, "The Birds", and I, Tippy Hedren. I kept hearing these screaming and cawing shrieks as their Witch Hunt site leader, Chill egged them on.
"Somebody to Love" Queen and the incomparable Freddie Mercury