This must be surely wrong, but I am loving this picture of Jason Castro all sweaty, partially naked and shredding those drums. Castro is now serving as my new muse because lately I seem to be suffering from some sort of writer's block.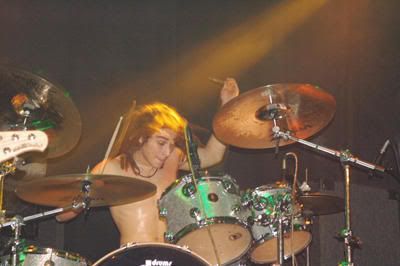 If it's wrong, I don't wanna be right.
This video shows the kid in a different light than seen on the show last week. I'm liking all the "facets" of Jason Castro. Too bad the recording isn't a bit better.
I felt like babbling about A.I. 7 some more this morning, especially with some of the newer revelations coming out about more of the contestants. It seems that the quiet one, David Hernandez', has lead a colorful pre-Idol life. Rumors I first read on Vote for the Worst and now hitting other media outlets have this man previously table dancing at some Phoenix gay spots.
I've known one man who made a lucrative living at that vocation for a time as he paid his way through college, he also graced my art classes by posing nude - ah, good times - but he wasn't gay. Perhaps he swung wild and hit both sides, but who am I to judge?
I have no issue with Hernandez' lifestyle, rather the fact that on his myspace pages he is reportedly stating his orientation as "straight". Rumor also has it that he has been in a relationship with another guy for several years. Now, if he's been advised the way into America's hearts and voting is strictly through the eyes of the women viewers he's been sadly misinformed. This could be what costs him an earlier that previously destined exit. He's got a decent voice but has been rather stiff, not in a good way, certainly not exciting. Perhaps he has been trying to repress, unlike dear Danny Noriega, his inner self, only David knows for sure.
Certainly by now, considering that this show is into its seventh season, contestants should realize the microscope that they will be viewed with by the public. No stone will remain unturned, and no secret unrevealed. There are simply too many folks in the contestants' lives that may have reason to divulge secrets, too many folks who are avid IdolHeads with too much time on their hands.
Then there's the Carly Hennessey thing. She was promoted and much monies spent trying to make her into some kind of Britney Spears clone-ette, but that venture failed miserably with a scant 400-ish copies sold. Reading the Idol Rules, as long as the contestants are not currently recording under contract they are free to enter the fray. What is not addressed is how often, in business especially, it's not what you know or can do but
the Who
that is important. Hennessey has big ties to Idol Judge Randy and after his slobberfest over her uninspiring performance last week, I would think there might have grounds for Conflict of Interest. I find her unoriginal sounding and rather creepy to watch sing. Carly has this issue with shark teeth in chipmunk jaws thing going on.
Everybody currently interested in, and watching this reality show, know all about saccharine sweet little David Archuleta, the
Star Search
champ at age 12 and his story about serenading Kelly Clarkson while she was in line, Season One. He's obvious a judge/producer favorite and the tweenies are in a squee-fest over him. Remember, anyone can vote, even your nine year old, so he's in this for the long haul.
Kristy Lee Cook was supposedly previously signed to Arista Nashville and faux rocker Robbie Carrico was a member of the boy band Boyz-N-Girlz United. I found them both uninspiring and boring. Cook was just bland and Carrico made me laugh out loud at his complete uber faux rocker image. I'm wondering if the permanent head gear, bandanas and Ace Young hats are covering something up - like thinning hair? Man this guy is so far removed from rock I envisioned snatching the Daughtry wallet chain and spinning him off the stage like some kind of bandana wearing spin top.
Chikezie Eze, or rather, Cheepie Sleezy, had all the relevance of a last-call lounge singer; he reminded me of the acts you find in the off the Las Vegas strip casinos. He had the incredibly bad taste to wear this Texas Longhorn shade of orange suit to boot. Cheepie Sleezy, in all actuality should have been given the heave-ho. Instead, theatre boy ("Les Miserables"), Colton Berry who bears a resemblance to Ellen Degeneres, was kicked to the Idol curbing. Simon must really dislike this kid for some reason unknown to we mere viewers - he ripped the kid, stabbing out the boy's soul,
"Get a good job, and then enjoy singing, I don't think you'll make a successful career out of it."
Simon, you funny man.
One of the other humorous comments he made, and why I have such a love hate relationship (in my mind) with this guy is how he treated the Bratz from Houston, Kady Malloy. Granted I haven't had much regard for this girl, but his comments were over the top in evil, describing her performance as
"like night of the living dead."
He clenched the King of Mean title with,
"I don't know who could impersonate you, a pencil or something."
Great one liner. I might have to use that sometime. Poor Malloy looked ready to kill the judges, especially Cowell. She actually has a nice husky tone to her voice, but for some reason is reminding me of Katherine McPhee, so I'm just not into her whole vibe.
Out of the girls, I'm liking Alexandrea Lushington and Ramielle Malubay. Lushington showed some fire and spunk, and nice vocals. Mulabay is an absolute baby doll with a great big voice.
Amanda Overmeyer, my Idol Biker sistah was disappointing. I mean the song was okay, but not for this show - rather more for Rock Star, and the whole hair thing is creating this Cruella Deville song in my head. Performance night she had the hair in a pseudo Amy Winehouse like bouffant in the back and then those sparse white bangs. I think a color make-over in order here, Overmeyer.
Well, a few more days and more Simon Cowell entertainment and I must say, looking forward to Jason Castro's next performance.