Meanwhile, he's actually playing basketball tonight on ESPN.
Taylor Hicks' fan and webmistress of mindless spin, Chill, has a lighthearted post today after trying to once again sic her
flunkies after me
. Today's post had me really tickled. Chill excitedly exclaimed,
"I have to work late tomorrow, but Tivo is set. This is going to be a great basketball game. Hope Taylor gets a homerun. ;-)"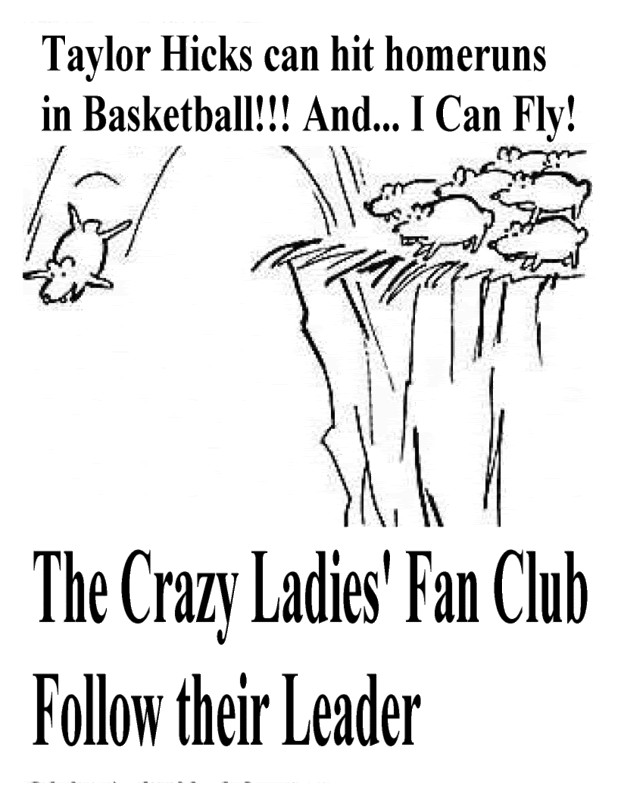 Yes, Chill, I'm with you man, let's hope he, and the term is, "hits" that homerun, but
that
won't happen tonight; perhaps if he plays baseball sometime...haha. She's so entertaining.
This light-hearted foray a break from yesterday's humorously titled post, "Enough Sun, it's time to freshen the air". Yes, Valentines Day spent like Christmas Day, focused topic - somebody to insult. The fan clubbers proceed to tumble into a morass of mercurial meaningless dementia written out in the startling fanatic way only Jeanni/Missy Scarlett and CBB/BlondeBabe can mete out. I imagine theses two hillbilly babes make their regular board of Taylor Hicks' fans proud.
I found this tasty morsel of mindless goo, posted after I set them straight regarding the error once again of their assumptions they know anything. You see that smart Chill assumed I was a poster on some other site called 'fcuk'. I was emailed by fcuk that was happening so had to check out the Fanatics.
celebrityblondebabe
"Sunny…you are right. You are not fcuk. However, you are fcuked! HAHAHAHAHA! ROFLMAO!!!!!!!!!!!!!

Bet Spinshack has been out hooking…all day and all night…it is all about VD. LOL"
Yes, readers, I'm accused of carrying sexually transmittable diseases by this Einstein.
BlondeBabe, in full-tilt brain-rush goes into this typing frenzy:
"They came and took it away…OH MY
They came and took it away…OH MY
Hee Hee Ho Ho Took the Funny Farm…
Where life was beautiful all the time
They came and took it away! HA HA

YES YES YES YES YES YES YES YES YES YES

So…where did all the crazies go? Back into their holes? Sounds like the BOYS ARE BACK IN TOWN!!!! The big boys with Law degrees…and Big Atache cases…FULL of legal papers and THREATS…OMG…HAHAHAHAHAHAHAHA~
Sound like someone spoke…but, did not say a word!"
Brilliant. Oh, and it's
Big Attache
cases. Someone spoke, indeed and wrote some idiot words... ding, ding, ding.
Speaking of ding, ding, her sister Jeanni (are they twins?) chimes in with,
"ARE YOU KIDDING MOI? Sunny IS = (mixed up) FCUK???.. LMAO, SHE's that vile little b*tch? AHAHHAHAHAHHAHA. Should have guessed it, didn't. Thanks for telling us Chill…OH BROTHER."
Yes fcuk,
"those mindless lemmings"...
Mind reader henry8 informs anyone reading her comments that Taylor Hicks is simply too busy to read any of this material on-line. Just one other symptom of the delusional thought processes she entertains. She is convinced she actually knows Taylor Hicks and doesn't mind stating to the world how he spends his time. A case of The Fan becoming The Man - tragic yet very funny.
Well, Chill has stopped making up those funny "FUCK YOU" Valentines for me. They were growing repetitive and certainly not enticing. I may have walked on the wild side a time or two, chica, but no can do - with you. Chill-Pill leaves us hanging this morning with,
"Let's have fun today, because tomorrow I have serious business to attend to here."
Serious business, I hope that includes obtaining a brain.