Taylor Hicks, a former student of W.A. Berry High School, graduated from its successor Hoover High School in 1995. While in Hoover Taylor Hicks played varsity baseball, soccer, and basketball. Curiously, in a comment included in the review of the McDonald's Celebrity Basketball game, written by
Matt Wurst, of NBA.com
, Taylor Hicks is quoted as saying, "I think this may be the first time I have ever shot a basketball in my life". Now I'm thinking perhaps he was either joking, or maybe he intended to say, "I feel like I've not played...." anyway, I found his comment interesting.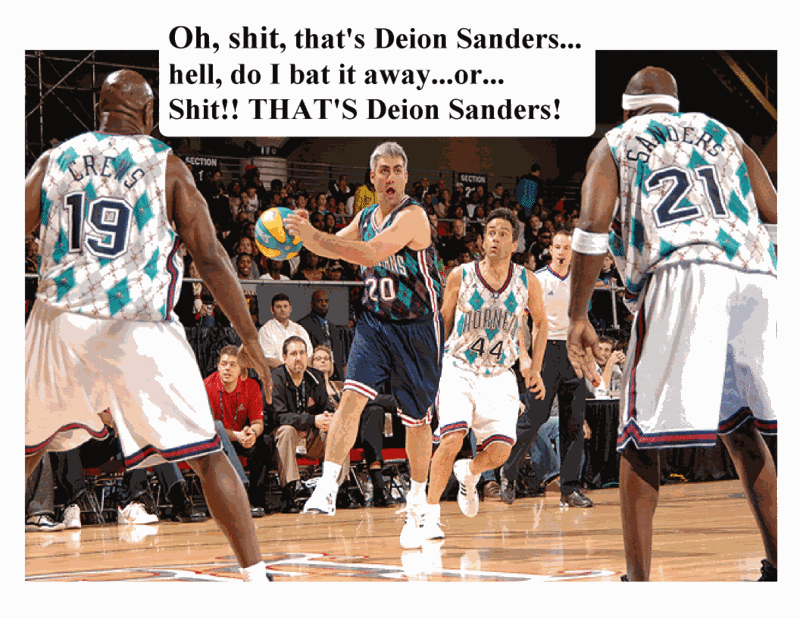 Mr. Wurst continues with, "the 2006 "American Idol" winner Taylor Hicks also came out and gave it his best shot (Soul Patrol? More like SLOW Patrol!)." Obviously not impressed with Hicks' skills on the floor.
There was an ample audience - the game sold out. Had I known that one of my favorite Dallas Cowboys, Terrell Owens, was going to be a surprise guest, I'd certainly wouldn't have wanted to miss it - could have talked Darling Man into recording it for the T.O. action. (I had to work late, and Darling Man refused to tape it - he was watching something else...) T.O. certainly came to Big D with his share of detractors but I have been absolutely fascinated and a big fan of this man, even when he came to town and threw down on the Cowboys' field emblem,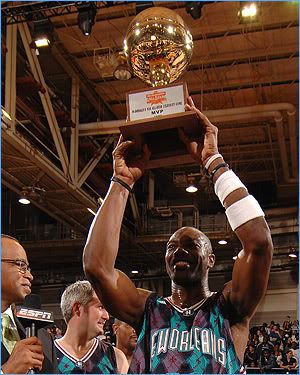 during the era-before-Romo Cowboys' game. The man is an incredible athlete. Sure, he may go all Hollywood with his giant, I borrowed-Grandma's-earrings thing, and he's certainly earned his rep as a National Football League big mouth, but he walks the talk. Last night he scored the game's MVP award, making it look smooth and easy in the Big Easy. Referring back to Deion Sanders, his cry-baby stance; "I'm a little mad at T.O., he made the game more challenging," Sanders said afterwards. "If he hadn't played we would have blown them out."
Wah, Deion, you got beat by a better man. ha. T.O.! T.O.! T.O.!
In Wurst's article, Sanders closed with a vow: "I'll be back next year. Not only to win, but to take my MVP trophy back from T.O."
Overall it looked like great fun, and definitely for a great cause, here's a shot of some of the guys having a little hardwood non-basketball fun. But, really what a thrill for Taylor Hicks I'm sure, to be able to play with the folks assembled, especially Terrell Owens. That deserves a big "Wooooo"!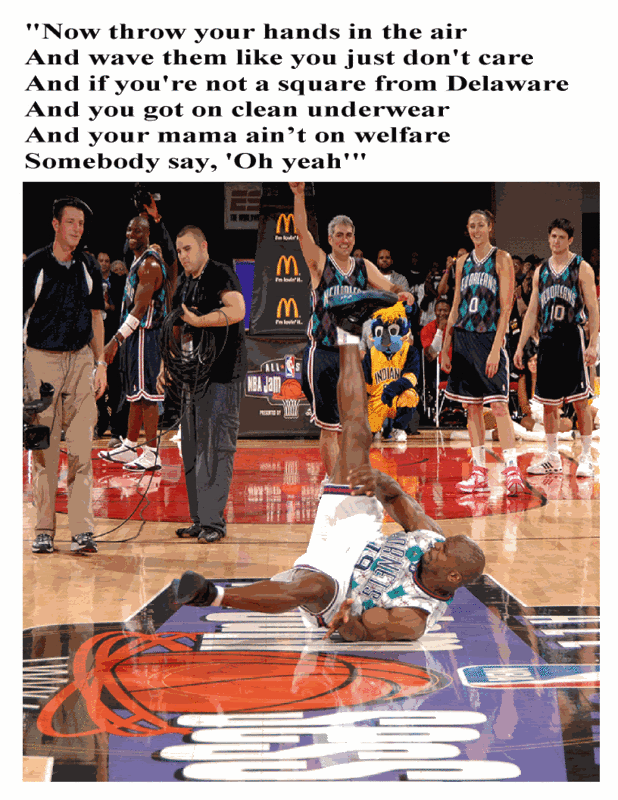 Oh Yeah!
"Throwing it All Away" - Nothing to do with Basketball, but since Darling Man is a former Motorcross racer, and kick-ass skier - plus I like Juke Cartel: