Taylor Hicks' most freaky of fans, members of
The Caroline Lyders Fan Club
, were having big fun last night. Nothing more entertaining for a troop of Taylor Hicks'
Inquisitionistas
than spending the evening...not listening to Taylor Hicks' music, not reading a Taylor Hicks' book, not volunteering at the local shelters: no, instead once again, like the way they spent
Christmas day
and every day, finding someone to bitch about.
Yes, these are upstanding and fine folk.
Apparently this rowdy band of Taylor Hicks' loyalists live for the Witch Hunt. Last evening chill, the webmistress, sent me yet another 'Funny Valentine' (the answer is still a "thanks, but no thanks"). While composing my Love Note she decided to give a peek into her spam box. That spam box must be like that "box of chocolates" in Forrest Gump, ya never know what you might find... I left her a little chocolate covered cherry to relish but it did not make the Big Taste Test. Just an 'honorable mention' in comments. (I've got a new website starting called The Spin Shack *wink, wink*)
My darling creative and accomplished friend, "JM" did not make the grade either, must have been lost in cyber Hell that is chill's spam-orrhea. Instead Sixxfan and Mommyof3 were laid on the sacrificial pyre for the ladies to dance around and chant.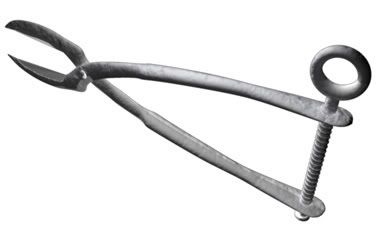 From what I'm deducing from this lot of Fanatics, I'd entertain the notion that, if it possible, these Taylor Hicks' enthusiasts would prefer to use this device. During ancient times tongues were ripped completely out of one's mouth for maligning the Lord or saying anything considered blasphemy. Thing is, in today's world, they could also use it to rip fingers off - ending that pesky blogger from writing in their pesky blogs. Mfoyasucks, likely the first to beg to wield the device, "Let me Mommy! Let me!" she'd cry while on her knees.
Perhaps in another life, if there truly exists reincarnation, we would have found these dogged loyalists fighting for their right to bear the Chill Coat of Arms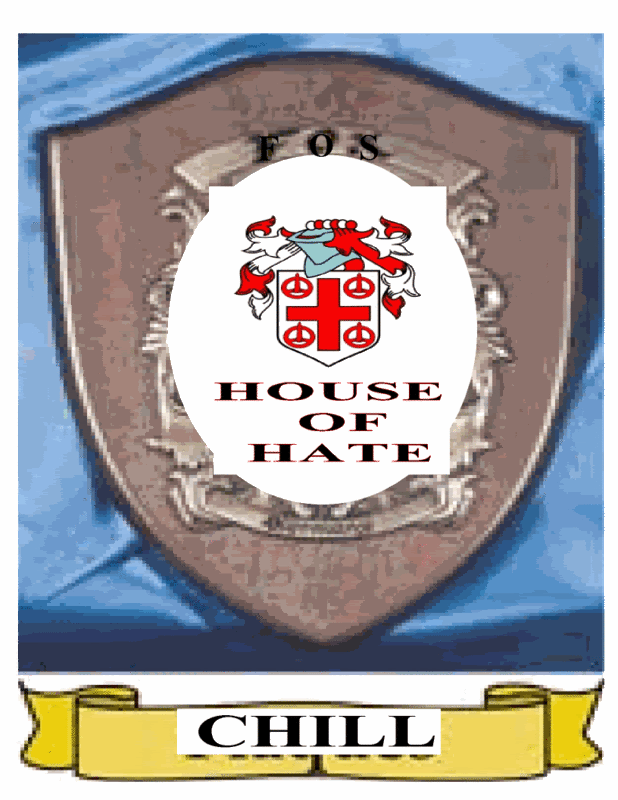 rallying forth, swords drawn, lances thrust. That lends too much of a chivalrous image though to what amounts to a pack animal mentality. Really I'm sure they would find much more enjoyment burning those they perceive trespass against Him (Lois Gibson, moi) at the stake.
Rush, "Witch Hunt"
To these Fanatics, Taylor Hicks must be adored with the fervor matched seen at evangelical tent revivals. Indeed, it's possible they actually speak in tongues while attending his concerts. Fascinating. I'll be watching for that, just have to look for the sparks of glitter flying from floor friction at the next Taylor Hicks' event. Just think, tomorrow they may be off their site long enough to roll in the floor of their living rooms, eyes back in their heads while Taylor Hicks sings to the couple reciting their vows on National television on the Regis & Kelly Show.
All I can say Taylor Hicks, it is a heavy cross to bear, man. Remember, there are those out there who love you but maintain the real feel. Doesn't mean we like or appreciate you less; we simply express ourselves 'differently'.
As an aside, initial reports on the tune Taylor Hicks is singing, "Places I've Been", might be incorrect. I'm now reading he's going to sing "The Right Place". No official word on his
Myspace site
or, the Regis & Kelly site.
"The Right Place" Interview with The View as well c/o Geanna5876
Lyrics to "Witch Hunt"
"The night is black
Without a moon.
The air is thick and still.
The vigilantes gather on
The lonely torchlit hill.

Features distorted in the flickering light,
The faces are twisted and grotesque.
Silent and stern in the sweltering night,
The mob moves like demons possesed.
Quiet in conscience, calm in their right,
Confident their ways are best.

The righteous rise
With burning eyes
Of hatred and ill-will.
Madmen fed on fear and lies
To beat and burn and kill.

They say there are strangers who threaten us,
are immigrants and infidels.
They say there is strangeness too dangerous
In our theaters and bookstore shelves.
Those who know what's best for us
Must rise and save us from ourselves.

Quick to judge,
Quick to anger,
Slow to understand
Ignorance and prejudice
And fear walk hand in hand..."
Special Note:
henry8, it's not a matter of reading Jeanni's tirades, most closely - you see, she did not have any indicators in the post that she was quoting anyone, she just had the message typed out *rolling my eyes*. There were no " " or anything...besides she's quite guilty of using the possessive format incorrectly, often.