My grandmother, age, 93, and my last remaining grandparent has passed away. As the obituary reads, she has "returned to our Heavenly Father June 22, 2007". Lilly was born May 17, 1914 to George F. and Rhoda H. (last name omitted)in Ephraim, Utah. She married my grandfather in 1933 in Manti,Utah. She lived in Sandy for the last 65 years. She spent her life in the service of her family and God. She was an active member of the Church of Jesus Christ of Latter-day Saints and served several years as a temple worker in the Jordan River Temple.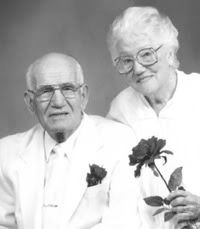 This picture is from their 60th wedding anniversary.
My grandmother had a beautiful singing voice, sadly I did not inherit that trait, or the musical abilities. She was a wonderful pianist and enjoyed playing in a dance band in her youth. She played for many years in church and for the enjoyment of many people. Music was her passion in life. My grandmother was self-taught on the piano - she could hear a song and play it. It was a true gift, and she loved getting together in her living room, playing and singing with her family. Her family was the most important thing in this life for her.
She will be missed, but we celebrate the great life she lived. She fought and won the battle with cancer twice in her life, the last, breast cancer - she beat while in her early sixties. She was always ready with a smile and had a lovely laugh, she had kind, dancing blue eyes and a fierce energy. She passed in her sleep, quietly and peacefully, certainly a person can't ask for a kinder way to pass this earth. God was good to my grandmother and she lived a life worthy of that goodness.
God bless you Grandma, I'll see you again.