The Taylor Hicks Season Five definitive jacket has been retired. It will lie in state in the Alabama Hall of Fame enshrined forever in all of its shiny purple glory. The jacket will be accompanied by that great paisley shirt.
I really liked the purple jacket. That and those blue suede shoes and paisley shirt were probably two of my favorite looks Hicks incorporated into his Idol triumph. Where the shoes are, most likely, still in Hicks' closet. Those were keepers, apparently.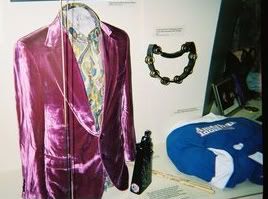 Man, looking at the display case puts me in mind of my last trip to England, and my tour of Madame Tussaud's Wax Museum. I rather enjoyed
The London Dungeon
more, but Tussaud's is a Must See.
This is all I have for now on Taylor but it's nice, having a physical piece of evidence regarding his earning a spot in Alabama history. Fans can come and take pictures and remember Mr. Hicks' 'show how it's done' time on
American Idol
.
Taylor Hicks obviously believes in giving back, he's been in one charity gala after the other this year. Over the Mother's Day weekend he performed at the Hannah Home charity event which provides support for abused, homeless women. This week he's golfing in Birmingham, AL at the Robert Trent Jones Golf Trail for the Region's Charity Classic being held May 14-18.
I have a few questions for the enigmatic always leaning toward the mysterious, Mr. Hicks. First, are you or are you not appearing on this funky show this season? Second, when exactly is the DVD hitting the purchase airwaves? Thirdly how's that CD coming along? Like I'm going to get an answer.
Here's a very old cool video with some guys that have earned their place in music history: "Train Kept a Rollin'" 1968 The Yardbirds
video c/o ChicagoBlues