Take 20 hours off the computer and all sorts of Taylor Hicks news hits the internet. It seems Mr. Hicks let loose the news he will be morphing into angelic form. He's, taking on a potentially high flying act as an Angel - no not a Charlie's type, instead more of a Broadway Angel. He's been offered the part of 'Teen Angel', a small role in
Grease
. This is the same production that cast winners from the show,
You're the One That I Want
, Max Crumm and Laura Osnes. Will Hicks don big fluffy gossamer, sparkly glitter wings? I hope so.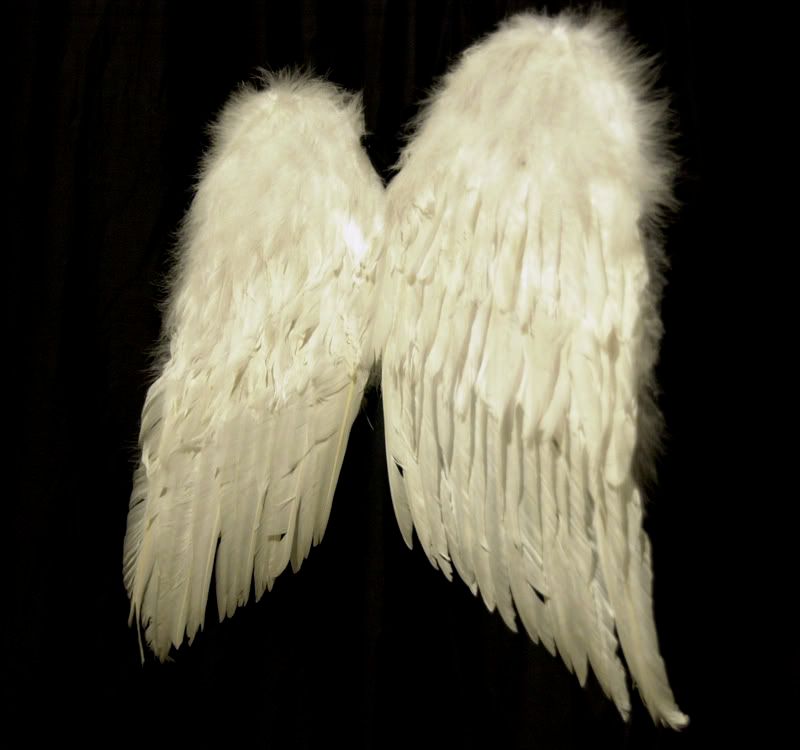 In the New York Times article, one of about a dozen Hicks alerts I received today - all which are pretty much parroting each other; Taylor says, he plans to add "soulful flavor" to the Teen Angel song, "Beauty School Dropout." Hicks adds,
"a classic fit for a classic performer."
Taylor, who apparently spoke to The Associated Press Thursday, added,
"It's a big number, and, you know, I've made some pretty grand entrances before, and this one is probably the grandest entrance I've had in my career."
Obviously the Soulman certainly doesn't lack for self-confidence.
Teen Angel isn't a big role, but it's one that has been played in the past by Frankie Avalon (film version) as well as Chubby Checkers (isn't that a kick?) and Jennifer Holliday on Broadway. Notably, this is not a cast-to-type role, instead it's more of a flexible position that has allowed the various actors to portray the 'Teen Angel' in their own interpretation. The role consists of a song sang to beauty school drop-out character, Frenchy; the Angel appears to Frenchy to console and guide her following her lack of achievements in beauty ed.
Taylor was quoted as saying,
"It's a cool song. I can see myself being able to Taylorize it. Who knows? Maybe I'll do the Elvis meets Aretha Franklin meets Joe Cocker version of 'Beauty School Dropout.' I don't think anybody's taken that approach yet. I'll get with the producers and sink my teeth into the role."
Sinking of the teeth perhaps appropriate for Alex O'Loughlin, of the show, "Moonlight", which, much to my chagrin has now been cancelled by the Bo-Bo's at CBS. Since you are now going to be an angel, Taylor Hicks, 'fly with it' perhaps, more appropriate.
This role has potential to lead to further opportunities on the small stage, an area that several of previous
Idol
alums have found success. Taylor adds he will continue to work on the new CD which he hopes to have out this Fall. (Think of the holiday shoppers, Hicks.) Currently he is set to play the winged, and I hope, high flying role from June 6 through September 7th.
I'm sure when Mr. Hicks is ready to release his new CD, AOL and The Associated Press will be the first to 'break' with the news. This blogger just has to wait for the scraps to filter through the news lines. (Yes I'll take some cheese with
that
.)
Taylor is proclaiming the new CD to be chock full of some of the greatest songs he's ever written. Let's see if he can top my personal fave, "Soul Thing". His post-reality show album hasn't hit the million mark yet, sales registered at a little over 700,000 sold. It always makes me smile reading that the album failed to send a hit tune to radio. Seriously, how was that to actually happen when nothing was promoted for radio by the label? Magic perhaps.
Speaking of magic, I for one, am looking forward to the kind of 'soul' magic that Taylor Hicks might bring to Broadway. The image of Taylor, decked out in a white suit complete with fluffy wings, belting out 'Beauty School Drop Out' makes me break out into a full grin. Unfortunately for me, I won't be able to venture North to the Big Apple to catch a show - I'll be spending some time this Summer on the West Coast. Youtube will have to be my source of
Grease
/Taylor angel watching. I'll just have to be the blogger wind beneath his wings.
"Beauty School Drop-Out" Frankie Avalon's Version (Don't do this one...)
video c/o katiedaily