Jason Castro apparently decided time was right, as in right-on to leave the cheese spectacle that
Idol
has become. I can only imagine how glad he is to be Free of those horrible group sings.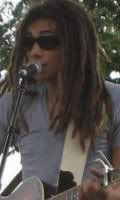 Man, this week who choreographed that mess? All that racing back and forth, nobody looked comfortable or happy - except for grooving to the music Little Winky Bat-Boy.
Yes, Jason Castro is Free to do what he wants any old time, well at least until this Summer PopTart Extravaganza starts up. This morning, I imagine Jason was positively sprinting out those Idol compound gates.
"I'm Free" Soup Dragons, video c/o letgr00ve
I admit, I was feeling the selfish, I wanted to keep him around a little longer on the show. Make Jason into my own beautiful singing television
tamagotchi
. A tamagotchi with gorgeous blue eyes, dreads and hypnotic voice. Admittedly, Jason made the right choice, it was time for him to do his thing. His thing, not being the guy with the confetti swirling into his dreads.
Turning to the remaining
captives
competitors left in the running for the Idol Title. Has anyone noticed, how over the past two weeks, Syesha's let her personality, at least the one she wants the viewers to see, out of hiding? Think back to was it two weeks ago? Yes, Andrew Lloyd Webber week. Syesha mentioned to Ryan that it was easier to sing as a character rather than to just be herself. What we're witnessing is a conversion from just Syesha into Syesha-On-Idol, a character she's developed so that she's more comfortable on stage. It's all in the acting, Syesha's figured it out. This chick is, as Pauler said a month ago, the perhaps Dark Horse to watch. Top 2? Maybe. Unlikely but maybe.
Then there's little Archuleta; surely writing anything but neutral or perhaps verging on sympathetic will bring down some kind of karmic evil on me. David's nice boy, obedient to his stage parent. He's trying very hard to please and do the best job he can per his instructions. The show loves him for all the qualities he's showing. David will most likely be one of the easiest contestants in show history to mold and meld into the cardboard cut out they desire.
It goes without saying, David will pose no issues or conflicts, such as those rumored to have occurred with their season five champ, Taylor Hicks. It's been widely known that Taylor Hicks dared to propose he have say on the post-Idol CD, and he dared present his own music for release on that CD. Oh, the horror.
David Archuleta is seemingly not bringing any preconceived notions of who he is nor try and push his own music on the producers. Little David will sing what they want, how they want and smile all the while. All that is important to wee David is that he 'connects' to the material. Don't you know his Pop has driven that word into his head...? Yes, he's a good boy.
Then there's David Cook. I can't decide if he's decided to sell his soul to the Devil or if perhaps he's doing this for his ailing brother and that little girl,
Lindsey
. It might be a coin toss. My altruistic side wants to believe Cook's not just surfing for that Demonic Contract but what do I know what goes on under that large cranium of his? Exactly.
Maroon 5 performed last night and that dude Levine, he just freaks me out sometimes with his vocals. Man, the judges dissed Luke Menard while he was on the show and to me Luke's sound is very similar to Adam Levine's. I have, driving down the highway, grooved along to them - but man, watching that guy... I read someplace Jessica Simpson had a thing of some kind with him briefly. Seriously (yes, JM, I'm looking at you, babe) who hasn't bedded this gal? (Including, now, our Cowboy's QB, Romo...agh. It's like "Richardson, TX Girl Does the World".)
Starring moment of the evening, outside of Jason Castro's 'manned-up' exit, Bo Bice. My, my, my, Bo Bice is Back. Bice sounded excellent, looked excellent - love that he performed his song "Witness". His recent release, for reasons I can't fathom just haven't hit big numbers, but man, it's a good CD. Pure Bo Bice. The whole 'Frampton Comes Alive' voicebox a kick. Here's Bo in all of his "I'm Back" glory. Bo Bice is teh bomb!
"Witness" Bo Bice video c/o AIfreak08
Don't hate Bo because he's beautiful...Yes, teh hair was Pantene beautiful.
Jason will be missed on the show, but it will be exciting to see him performing after this is all said and done. Loved Jason's parting comment, "Someone said I shot the tambourine man yesterday,". Anyone catch, LA TImes' Richard Rushfield, who was there, said in his report, that the band started Mr. Tambourine Man but Jason said no, we're doing the Marley. Love. This. Boy.
Jason, shooting the Tamborine Man: Goodbye Castro - for now.