Taylor Hicks had been in New Orleans the night before Hurricane Katrina hit, he encountered problems trying to evacuate the city, but he succeeded. Handling matters in a diplomatic manner, the airline responded in kind, providing him a free ticket anywhere in the country. He had planned to attend the Memphis September 5th,
American Idol
auditions, but they were cancelled; Memphis could not take in the
American Idol
crowds with incoming victims from Katrina requiring shelter. Instead of forfeiting his efforts to try out for this show, Taylor later used that free ticket to attend the Las Vegas auditions. In the Vegas audition, he performed accappella,
Sam Cooke's classic, "A Change is Gonna Come"
. This performance awarded another ticket for Hicks, the 'golden ticket' to Hollywood. (Thanks to support from judges Randy Jackson and Paula Abdul who overruled judge Cowell.) This song has been adopted by Hicks' fanbase as an anthem, perhaps the first
karmatically
selected song choice The Soulman performed; the audition and song stand as the defining moment the silver-haired young man attracted the attention of his now currently burgeoning fanbase. Previously casual
American Idol
watchers as well as folks who have never watched this show have morphed into devoted viewers - and voters. A change is gonna come, indeed.
"Will it Go 'round in Circles"
was a song Taylor Hicks performed while on his hometown visit in Alabama. This song is included in Hicks' regular repertoire he and his band perform. Mr. Hicks has been unabashedly upfront with the media and his
fanbase
in his desire to win this talent show. Considering, how fans of this insanely popular show spend much of their time and personal funds to promote their favorite, it is rewarding to see and hear Taylor Hicks declare consistantly, heartily and passionately, his desire to win. His 'shout outs' of "Soul Patrol", the repeated expressions of thanks to that fanbase, following every televised performance, including all of his recent Alabama appearances are truly indicative of a man as devoted to his fans as they are apparently devoted to him.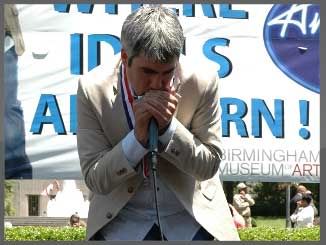 Taylor Hicks uniquely demonstrates gratefullness vociferously, in a way not often seen in the world of celebrity. But 'will it go 'round in circles'? Will all the love and affection deliver Taylor Hicks the
Idol
win?
Taylor has performed memorable songs such as Elton John's "Levon", he gave his heart and soul to The Doobie Brothers' "Taking it to the Streets," demonstrating fierce energy, "Trouble" by Ray LaMontagne showcased brilliant vocal attributes, as well as did "Something," by George Harrison. His performance, "In the Ghetto" by Elvis Presley artfully breathed new life into an old song. He has, in my opinion, demonstrated more emotion, more intense feeling and drive, and love for his fans and his music than any other contestant on
Idol
(or mainstream music for that matter). Coming down to this last competitive performance, polls are wavering between close and very close for the two remaining contestants, Katharine McPhee and Taylor Hicks. Many of the other contestants' fanbases have converged their focus contributing to the fray intent to oust Hicks or seat him, depending on how he affects their passions as the Season 5 Idol. As a deliberate understatement, let me comment Mr. Hicks has the ability to incite great passions. Taylor Hicks has drawn the most widely diverse opinions of any contestant to date; his fans are captivated, entranced, while antithetically, non-fans verge on bedlamite expressions of derision and contempt. In turn, Hicks' reward has been to garner some of the highest voting totals in the show's history. But will a change a gonna come?
This season's ending couldn't be more perfect if it were scripted. On one side you have the lovely Katharine McPhee representing the prototypical pop princess. The type of persona viewers became accustomed to seeing on
American Idol
. Conversely, we see Taylor Hicks contributing a new and divergent concept, single-handedly elevating
A.I.
from its initial speculative premise, a reality soap opera. Taylor is taking this show to what it should be - an actual discovery of a bonafide natural musical artist. Taylor Hicks has already written several songs displaying the gifts he has to offer music. Check out this site for a listing of songs he has performed and songs he has written. Mr. Hicks does Ray Charles proud. Take a listen to
"Georgia".
Guidelines for this finale have the two contestants choosing two songs already performed, with the third song the one to be recorded on the first released single. All being kept very hush-hush at the moment. Coming down to the wire this Tuesday, it is time to see if the Karmic wheel put in motion with the complimentary airline ticket will rotate full circle. Time is now to demonstrate how much value The Soul Patrol and fans deem Taylor Hicks has brought to the
Idol
table. It is the last time in this competition to give Taylor Hicks The Soul Patrol 'shout out'! Can I get a big "WOOOOOOO! WOOOOOO!!!"?
Will it go 'round in circles? Is a change a gonna come?
It's now up to us.