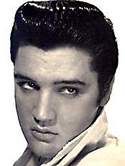 Behind the Elvis Theme Week on
American Idol
one only has to look for a man named
Robert F.X. Sillerman
. He's a Wall Street operator and sort of a 'Donald Trump' of the media business. A little background: he sold a group of radio stations to Westinghouse (now Viacom)in 1989 for $389 million. Less than a decade later he sold more stations to Hicks Muse for $2.1 billion. He had dealings with Clear Channel in 2000 when he sold a company that owned concert venues for a reported $3 billion. A real wheeler dealer.
Sillerman's latest publicly traded corporation is titled
CKX
. The CK stands for "content is king," while the 'x' is a reference to one of his middle initials. It's unknown what they stand for but I'm leaning towards 'effects' abbreviated, you know, like seen on the cable FX station, or on an SUV made by Infinity Motors. Well it is his little secret. Sillerman made a business deal with Lisa Marie Presley in 2004, then moved to buy the smash-hit TV show American Idol and other properties from a company called 19 Entertainment (19E), which was previously owned by British pop mogul Simon Fuller. So you can see where this is leading...Regarding the business arrangements brokered with Lisa Marie Presley, what the man owns is
Elvis Presley Enterprises
. EPE generates $40 million in annual revenue from Graceland tours, onsite retailing, and licensing, an apartment complex and the much promoted Heartbreak Hotel.
American Idol
, Bob Sillerman and 19E create a tangled but understandable money making thread, therefore we have
American Idol
able to throw an Elvis Presley Theme week and Sillerman able to promote his EPE ventures. Win, Win, for Sillerman and Elvis Presley entertainment from the final four contestants remaining on
Idol
.
Taylor Hicks and his compatriots will visit
Graceland
where they will have a tour accompanied by Priscilla Presley. To prepare for the competition this week, insight and guidance will be provided by
Tommy Mattola
. (I haven't figured that one out yet). I've been reading about the fortunate A.I. fans able to commute or that live in the vicinity, staking out Graceland with the hope of seeing their favorites. Ah, yes, I can just picture myself hanging on the music themed wrought iron entry gates of Graceland... Screaming like a giddy fangirlly freak, "Taylor! Taylor! Tay...!"
Snapping back to a semblance of reality, and back to topic, the overwhelming challenge the contestants will face under this theme is the dreaded 'Karaoke' label. This should pose a real test of their individual artistic abilities. (I'm not just talking about taking an Elvis song like "Burning Love" and giving it the "Creed" alt-rock treatment to 'make it their own', ala the "Live" turn of "Walk the Line," performed by Daughtry.) Definitely a challenging genre, creating lots of speculation and excitement for this crazily popular talent show.
It's a given that Taylor Hicks will have the highest hurdle to jump this week to avoid the dreaded "K" label. Hicks is proving he is not a stupid man, I am confident The Soulman will carefully consider all options. Overall, Taylor has been demonstrating that he is a winner, a champion performer with a heart for success. Like
Secretariat
, Taylor Hicks
"knows how to run a great race"
, he hasn't won all the
Idol
races so far, but the ones he has had the other contestants 20 lengths behind, blinded by flying sand. On-line, Hicks has the largest confirmed fanbase and is all ready demonstrating his growing international appeal. The man has true star power evidenced by his performances of "Taking it to the Streets", "Living for the City", "Trouble," and the brilliant combination of "Play That Funky Music White Boy," by "Wild Cherry" teamed with George Harrison's "Something." No doubt, I am biased.
It may be unavoidable, that no matter what Taylor Hicks performs, a certain ascerbic judge may have already penned the dreaded "K" label on his index card. Conversely, when considering some of the 'master-minds' behind the
Idol
scenes such as the obviously brilliant Bob Sillerman, Hicks should be garnering the recognition, internally, within the monied fraternization needed to promote and develop his career.
My advice to Taylor Hicks, "Lay it all on the stage, baby, and don't look back!"
Groove on Soulman!