Quoting Taylor Hicks, "The Soul Patrol rides on"!
Individualism was rewarded on
American Idol
, this season. The 'regular Joe' morphed into an American hero. The whole small town guy makes good by beating the system fantasy that many of us love and hold to our hearts came true. Taylor's appeal is spanning from the true music aficianados, to the against-the-mainstream misfits, to the retro music fans, to the baby boomers desiring a return to a time where real American idols were born, not churned out pre-fabricated, dressed and dyed and plasticized.
Talent was rewarded this season on
American Idol
. This reality talent show surpassed being about just pop pipes, to a show premiering true talent with real stage presence and high decible charisma and charm.
Drive was rewarded this season on
American Idol
. From the beginning I have said Mr. Hicks is not a stupid man. It was evident to me, from Taylor's initial audition that he was a man with the desire, the drive and the intelligence to make this happen. He had that fire in his eyes. He projected a definite sense of self, independence and originality. Taylor Hicks has played this
Idol
game with the savvy and know-how he ripped from the streets, derived from honest to good, blue collar On-the-Job training. Performing at regional honky tonks and clubs helped to hone his sensibilities on music delivery and reading his audience. There are many aspiring artists wanting to enter the music business that should take to school the precedence Mr. Hicks' has set on this talent show.
Taylor began shaping an image from the beginning of this season. Mr. Hicks came in with a dream, with a vision, with a plan. The acoustic performance of Sam Cooke's classic, "A Change is Gonna Come". His enthusiasm, his trademark, "WOOOOO!". The much discussed 'harp walk', Hicks' enters the judges' quarters, harmonica playing, working that stiff-legged bluesman walk where he discovers he is indeed moving on to Hollywood. His attire. The blazers representative of several things, communicating he was taking the show seriously, the fact he was more mature than his counterparts, but most importantly the blazers helped create that old soul vibe. Researching some of Hicks' heroes whom he patterns his music after;
Sam Cooke
,
Ray Charles
,
James Brown
,
Solomon Burke
you see these men as careful with their appearance as they were with staying true to their music.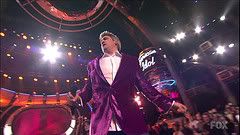 Song choice always holds an ultimate role of importance on this show. Hicks weekly demonstrated what he's about and for the most part successfully chose songs to match up with his style. "Levon" by Elton John garnered him praise, "Taking It to the Streets" by The Doobie Brothers brought out Taylor's fierce intensity as a performer. That energy translated into his real ability to communicate mind, body and soul to the audience. This performance generated tons of mixed media attention for Taylor and made him a household name. His sense of humor emerged in the pre-performance clip about his days as a shopping mall Easter Bunny.
He made a few mistakes, but learned from them. "Easy" by Lionel Richie, lesson learned from that song, to lay off a little on the "Woo's", concentrate more on the singing. "Country Roads", and "Just Once", were his two weakest performances of the competition. With the performance of "Just Once", an inkling of doubt, a slight lessening of confidence became a ghost shadow in his eyes. Taylor had endured week after week of poundings from Cowell, mixed reviews from Jackson and Paula. Realistically, there's just so many times a guy can be compared to 'someone's drunk Dad at a wedding' and not let it affect him somewhat. I found myself comparing
Idol
to a football game. Your team's been playing the first quarter pretty well, not too many penalties, a fumble, but not much yardage lost, then into the second quarter the penalty flags begin to fly fast and furious, the other team scores a lead breaking touchdown, 2 minutes before the second quarter ends.
The half-time whistle blows.
Third quarter, Taylor exploded on the
Idol
field in a wild hot paisley shirt and blue suede shoes with pink laces. He belted out "Play that Funky Music White Boy!" by Wild Cherry, it was an in-your-face, 'up-yours-Cowell' moment. Great move, it enthused his fans who applauded his seemingly flip-off to Cowell criticisms and negative critiques. Pairing that song with "Something" by George Harrison was brilliant.
"Something"
gave weight to Taylor's real vocal abilities, he sung it masterfully, beautifully. The game had turned tide. "Jailhouse Rock" had been a popular on-line request for Elvis Week. I had a request out that he sing "In the Ghetto". Elvis week scored that comeback touchdown for Taylor. May. 16 brought Bruce Springsteen's "Dancing in the Dark" and Joe Cockers'"You are So Beautiful" Score another for Team Soul Patrol! Last competition, the Finale, Taylor brought back previous favorite "Levon", considered by some fans an anthem,
"Levon wears his war wound like a crown"
a tribute to the challenges overcame weekly on this show, and the song is important to Hicks for the family values it represents. "Living for the City", a 1974 hit by Stevie Wonder had previously brought Taylor accolades from his fans. The topper of the Finale was his performance of the
American Idol
song created to be his first released single. Titled,
"Do I Make You Proud"
. This title and the song are incredibly appropriate for Taylor for a couple of reasons; one, when he had originally talked to his father, Brad Hicks, about trying out for
Idol
his father had commented he just might as well just go out and buy a lottery ticket, two, Taylor had been feeling the pressure of timing, and the need to make something out of himself, have real success. He did not want to have his years playing honky tonks to be a waste, he didn't want to let Daddy down. I hope that Mr. Brad Hicks is a happy man today, knowing his son wasn't wasting his time. Confident now that music was a true calling for Taylor, not just a young man's pipedream.
Persistance was rewarded on
American Idol
this season. Team Soul Patrol never gave up on Taylor Hicks. Through thick, through thin (even through the occasional fumbled ball, the "Country Roads" penalty flag). Let's reflect upon Taylor's journey through
Idol
and re-live some highlights in an fitting
montage
created with Tay's band's music playing. (Thank you Comrade631.)