Last night Elliott Yamin showed how very much the judges and media have underestimated him. This little guy has overcome a multitude of adversities in his life, he is 90% deaf in one ear, he packs an insulin pump to combat his extreme diabetes, and has not had the benefit of performing in a band or had extensive vocal training. He is an authentic rags to riches story on
Idol
. He played the
Idol
game very well last night. Coming into the evening he was viewed as the next to go. Interviews during the past week with Nigel Lithgoe and judge Randy left Yamin completely out of the finals equation. He had to do something amazing to survive the night and he delivered. Considering how he had been prematurely discounted, and rated so far below the rest, Yamin did not let it affect him, instead he stood up to the challenge, took off the gloves and K.O.'ed Chris and Katharine.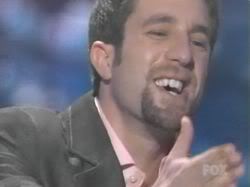 He scored huge with both songs he performed. "If I Could Dream" was brilliant, well sung, each note spot-on. "Trouble" gave Elliott some overdue production perks, great camera angles and lighting. His rendition was the best I've ever heard, and most importantly in this part of the competition, his best performance of the season. I bow to you Mr. Yamin.
Regarding Daughtry's performances, "Suspicious Minds" was okay at best, I just didn't think he was feeling the song or the moment. Cowell's appraisal, "it worked" was a sad attempt to breathe life into the moment. "A Little Less Conversation" just did not work for me at all. Only redeeming portion of the performance was its ending.
Katharine McPhee should be sent packing home to be with her McMother and McFather tonight. I felt almost badly for her, well almost, with neither performance coming across well. I remember how Melissa McGhee was sent packing after she forgot the lyrics and what a big deal the judges made of it. It seemed the Paula Randy Simon Team attempted to sweep Katharines' faux paux under the
Idol
carpets. A wardrobe malfunction would have helped her last night.
Saving my last comments for my absolute favorite, Taylor Hicks. The suit he wore in "Jailhouse Rock" was gorgeous, his entry into the song from the audience fun, electric! Taylor gave "Jailhouse Rock" the energy is should have, his dancing infused the song with the soul of the man the night was named for; regarding his vocals, I loved the growl, the intensity of his delivery. The song was prime fodder though for Simon Cowell, he was probably jonesing to say the Karaoke word. "In the Ghetto" his second song, was a favorite of mine as a little girl, Elvis' delivery of that song so poignant, so sad. I had hoped Mr. Hicks would sing this song, it was perfect for him on many levels, allowed him to show off his voice as well as providing insight into Taylor's style, he gave it a soul turn beautifully breathing new life into that song. Not a whiff of karaoke here, hey Simon? I would love to hear Taylor include that one on his next CD.
Tonight's the 30-minute adios special, Katharine should be saying good-bye, but we may be in for a rocker shocker.