What did he say? Taylor Hicks' appearance in the "Capitol Fourth" event gives new meanings to the phrase, "Life, liberty, and the pursuit of happiness" as outlined in our Declaration of Independence. Taylor Hicks delivered a fast-paced, energetic and always for me, interesting performance in the Capitol Fourth event.
Taylor Hicks performed three songs, "Soul Thing", "Dancing in the Dark" and "This Land is Your Land". About 4:28 into the performance, during the "Dancing in the Dark" Springsteen cover, it
seems
Taylor Hicks employed a little lyrical "libertay". I truly love when this man gets all improvisational.
video c/o KarinP
"Soul Thing" is one of my favorite Taylor Hicks' songs, and I've had "Dancing in the Dark" on my previous on-site little jukebox. Outside of Mr. Hicks' lyric improv moment, I thought copycatting the
Bruce Springsteen/Courtney Cox video
moment a bit trite, but likely considered 'expected'.
"This Land", obviously a 'must do' for a patriotic special selection - rehearsal photos provided by the ever-on-top Taylor new news, over at righthickssave.com - Mr. Hicks is depicted working the Guthrie tune with a guitar and harmonica ala Bob Dylan.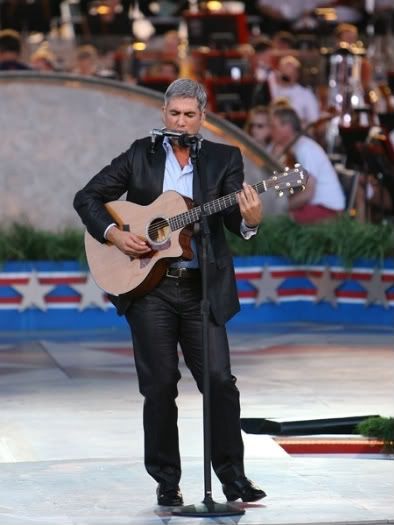 By showtime it seems decisions obviously made that the instrumental focus a 'must not do'. Taylor did incorporate the harmonica during the last portion of the tune, it worked well, but man, Contrary Mary that is me, I'd rather seen the instrumental focus. Fashion over art, perhaps.
Earlier in the day, yesterday, Taylor had been over at the CNN studios for an interview. While Cheshire cat grinning he mentioned his current run on Broadway and said, 'hopefully', he'd have a new CD ready for a Fall release. Hopefully?
video c/o pboyer
Speaking of Fall releases, last Sunday Mr. Hicks was filmed signing playbills following a performance of "Grease". I think he's being very accommodating to the fans. Gal filming this, Candy, tries to get him to divulge information on the upcoming release of Mr. Hicks' "Early Works" CD. Taylor nimbly sidesteps the question. Certainly Hicks' is not rude, but it's quite obvious he's not a tail wagging push over, either.
TAYLOR HICKS-STAGE DOOR (GREASE) 6-29-08
from
Candy
on
Vimeo
vimeo c/o Candy
I'm left somewhat confused regarding the Fall releases that have been discussed on the fan forums. On one hand there's the CD that Candy brought up in her video of Taylor, "The Early Works", the other hand a promise of a new CD with new material. This CD Hicks' talks about on CNN for Fall release, is that the one composed of his past post-Idol works or is he speaking about a new material CD? Or both? Hard to tell, haven't read anything from the man himself clarifying this issue.
All in all, my favorite moment from Taylor Hicks this week was delivered in "Dancing in the Dark". Taylor Darlin' you don't have to sit there f'cking wi' yourself, man, this
Sun shines
for you.
video c/o adridu74