Taylor Hicks fans continue to evidence they have a desire and commitment in debating and discussing the guy and his career. It's a serious matter with some, a thing that keeps many defensive even and creates a divide among the remaining parties on-line that still follow his every Google alert. Now in writing that, I'm not separating myself from those who have him on the Google list; of course I read what those 'bots pick up on a daily basis.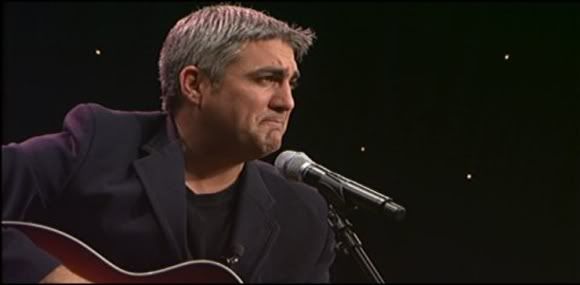 Recently I wrote a blog about
celebrity
. I stuck with Taylor Hicks and my new shiny thing, Robert Pattinson, as two examples. The topic utilized the types of media celebs endure and touched on one subject near and dear to the Soul Patrol faction - whether or not Taylor is alone in his persecution on-line. It's well known by all of us who follow him, Taylor is used as the butt of many jokes in comparisons to being a 'winner' (
Job Hunting Taylor Hicks Style
) or a 'loser' per perception. It's interesting how many Google alerts come through with Hicks' name use him as a snarky
punch-line
.
Some fans agonize over whether
American Idol
and 19 E, a.k.a. 19 Entertainment, is to blame for Taylor Hicks not being more popular in music or achieving the acclaim they feel he deserves. At the other end of that spectrum, the fans who take the different stand and say Taylor was never meant to be 'that kind of star'. 'He's too much his own man - he won't bow down to The Man and so is right where he wants to be, he's meant to be an Indie kind of guy'. My take, Taylor's obviously making some sort of living doing what he wants rather than spend his days suited up selling real estate or hawking loans in a bank, so hell, that's success in my book.
One of the folks I enjoy on-line wrote,
"Most of the Taylor's failure, lies with him. He made a bad post-Idol cd and that was his shot. He should have been paying attention. People who saw him on Idol and voted for him were expecting a soul and blues cd. The next Michael McDonald? Perhaps the next John Mayer? Soul music has an edge to it, but instead we got corny pop ballads, 70's/80's music, watered down soul and a couple of Ray Charles rip-offs. Taylor did a poor job of representing himself, so then he came up with Modern Whomp and nobody, to this day, knows what the heck it is. Just not good enough. Granted, the Distance is an improvement over the TH cd, but people are not forgiving."
Harsh to some to read, but this is a knife-edged insightful take by someone unabashedly free in speaking their opinion. Consider too all the critics who blasted Taylor's first CD that came out of Idol. Granted there were a few who liked it enough to not completely kill it off but it was not what was expected from Mr. Hicks after his Idol stint.
What was expected was a compilation of edgy soulful tunes with a new twist, instead what is on the disk is what that poster wrote, largely pop-ballads no different from what's floating around the Adult Contemporary radio heard in any department store near you. Another haunting statement that arose out of that Idol CD, Mr. Hicks came out with press about changing the face of music, (he said exactly that) and he repeatedly praised that Idol CD, claiming it was a complete representation of him as an artist.
In this
MSNBC interview
dating December, 2006 Taylor Hicks said,
"The album sounds like "modern whomp music".

"It's like funk, soul, jazz, blues, a little bit of hip-hop beats and rhythms," he said. "It's Taylor Hicks' modern take on soul music."
I have to say that I absolutely hate when artists refer to themselves in third person.
I recall Gray Charles being gracious in his comments about the CD; he described it as 'having many layers'. At the time I read that it set my radar up that perhaps the album we avid voters from AI and new fans of Hicks might not be what we had eagerly anticipated. When the album dropped, fan reaction on Gray Charles blog was very mixed. Tensions grew and it was about then began the fall out that we have evident today within the Taylor fan base.
On the topic of Gray Charles which, for me, an inescapable and important part of my early fan Taylor memories; I was pretty new to the internet at that time and I learned so much from following Gray. Not how to run a mega-blog I will never have that, I'm not geared that way - rather reading his site. He inspired me to learn some of the more technical aspects of blogging and writing on-line that interested me. I figure that's why so many admire and think highly of Gray - he imparted different learning aspects that some of us benefited from in one way or another.
Returning to Taylor Hicks, many fans regurgitate the theory that Hicks was 'forced into' that post Idol CD and those songs - like held hostage in a darkened room without food or drink until he capitulated. For argument's sake why did he then coin the "Modern Whomp" phrase and tag the phrase to that CD, that body of music? Why did he take time to talk up "Runaround" and other songs as incorporating the Modern Whomp sound? (That was on Gray's as well.) I recall that discussion about the swamp beat, yadda yadda. I don't buy for one moment he was held at knife-point to sing those tunes and 'act' like he liked them. Hicks did refuse to put "Do I Make You Proud" on it - but there are some who think that was a big mistake. "The Distance", his new CD, while being somewhat better (no Kara DioGuardi songs for one) it still is very similar in tone to that Idol CD.
Question arose yesterday from someone I consider an on-line friend. She wrote,
"I'm confused. Music Maven mentioned Tay had been with 19 management and the other day people on Grey's said he never signed with 19 and that was why he got no support. What is the story? Did he lawyer up and refuse to sign with 19 management from the getgo? ...As far as fame and celeb I think Taylor could handle it better than most. Carrie Underwood is handling her success well and she seemed such a wallflower on AI."
In one of my earliest fan related push pieces I wrote about Taylor Hicks,
19E and American Idol Owe Taylor Hicks
, I basically plead the case that the show owed him, not the other way around, for the ratings, the attention and the frenzy he had kicked up on Idol. Many folks agreed. I had a big response on blogcritics.org about that as well as it being copy-pasted on most if not all the Taylor fan sites and the A.I. Board. Sometimes I wonder if that theory may have been part of the problem concerning what happened with Hicks and the show afterwards. Not implying I had any influence at all, but rather like that poster said, perhaps Hicks did start to believe too heavily in some of his own hype.
Regarding signing with 19E, that company is associated with
American Idol
but reading the roster of folks signed to them, he's not on
the list
. I had heard there was a difference of opinion between Taylor and that organization so likely he never did hit that dotted line. I would imagine much of the dispute was over money since that is a huge contract breaker in many situations.
So to the question as to whether or not Taylor Hicks can handle Big Fame better than most who have attained it, debatable. Looking back on Hicks first foray into the potential for Big Fame I can't say he handled those people very well. I can't say that he worked the system to benefit him, but now he's having to work the system in the most feasible way open to him and his talents.
Poster Music Maven said,
"It just seems like it's the same conversation over and over and over again concerning Taylor. When does it end and people start to accept that it is what it is?"
It has to be a heavy cross to bear to be in a position like Taylor Hicks (and my new shiny thing, Pattinson); creating what they want to do and anticipating what fans want from them.