It's contestant baby picture week which means time to do another old song yet somehow make it sound new, add baby pictures. It's pick a song from the year you were born or some shit, with the show now shortened to an hour long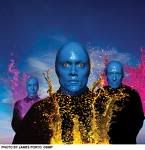 format. "Fringe" (YAY) returns tonight and in honor of that moment the cameras flash to a creepy guy from the show. Damn, wish they'd brought Walter. I have big love for Walter. Creepy guy is present, "in-character"; still and unmoving like the cyborg-like being he represents in the show. Honestly he looks like that lead guy in The Blue Man group without the blue.
Anyway the show blasts through nearly ten minutes of baby pictures with Kara dioTardi winning Most Ugly Baby; Ryan inspirationally quipped Kara looked like she just made poopy. Like he should talk considering his infant pic resembled a strawberry blonde buck-toothed bunny. Yes, only if they were as darling as I was.
Hokey-Gokey was a flat nosed little yipper. Interestingly in most of his pre-performance footage he's without those specs. Surely they're not just a show prop? Of course we get to hear how his Pop promoted his singing right out of the damn cradle, growing up with
"Son you can sing!"
engendering his deeply rooted sense of entitlement from birth. Hokey bored me into checking the channel roster while he was warbling, anything to get away from his flat goggled face. He did "Stand By Me", Mickey Gilley version. (Once again referencing country genre artists. Pandering much?) My Darling Daughter said,
Wow, for some reason it sounds like he's doing a Christmas song."
(No she was never dropped on her head as a babe.) I think she received that impression from the drawn out manner he performed the song. That brings me to another point, this guy can't perform, period. I've read comparisons to he being like Taylor Hicks, but man, Taylor brought the house down when he was playing in this Idol game. Hokey just manages to stagger around disjointedly making squinty faces. His vocals were flat in parts and just "meh" at best.
dioTardi told Hokey he "killed it", Pauler outright lied and said Hokey set the bar so high tonight (obviously she wasn't yet) who the hell remembers what Randy the Bo-Bo said, and Simon mumbled about lazy and slumped in his chair. I think he's actually tired of trying to appear he's pimping Hokey. The show might have to give him another bonus to keep it up.
Kris Allen was up next, I noticed "Fringe" guy was seated next to his wifey. She was giving her very best High School beauty queen smiles and claps. Kris had some story about taking a day off to go ride a ferris wheel and getting treated to a freebie (ferris wheel ride, a-hem) for knowing Adam gLambert by the fanboy ferris wheel guy. Kris obviously envious of Matt's hanging in the Tard pit last week positioned himself down in and amongst the out of beat clapping tweenies. He was born in 1985, selected "All She Wants To Do Is Dance" ala Don Henley. I liked the addition of the horns, gave it a jazzed up feel. Kris seriously needs to Nair his upper lip and cheeks because, man there's not going to be any facial hair coming out from his face for a few more years if ever. It looks like those boys in high school just starting out shaving who'd let their hair nubs grow just a bit to let the chickies know yes, puberty is on! He sang the song well but he certainly wasn't mesmerizing to watch.
Judges weren't falling all over Kris, with Simon calling it like it was with "boring" being the most apt descriptor.
Lil Rounds once again brought up her name, it really is spelled L-i-l. That and someone in kindergarten or some shit said that her name begged to be up in lights. You know, as in a marquis someplace. Tragically Lil decided on a Tina Turner tune, "What's Love Got to do With It". (1984) Apparently adding to the tragedy that was L-i-l last night, she sat and watched videos of Tina doing that song and had even the Turner moves down pat. It was more than karaoke with bad pronunciation, it was a skeery example of how life should never imitate art, or artists for that matter.
Pauler went with 'you look hot', Randy said something about "mad, mad, you look hot" and "Mary J. Blige" (hate to break it to you Bo-Bo but no Mary J. in '84), dioTardi with complete originality said it wasn't the right song, Simon had the best sound bite calling it a "ghastly copycat".
Anooop! came out apologizing about talking back last week, claimed he wasn't himself, blah, blah. He was a cute baby and being an only child his beaming, proud parents financially supported the photo album market. Born in 1986 he went with Lauper's "True Colors" and unfortunately sounded the same as he has every other week. He's not a good performer, sings expressionless which is a surprise considering all his experience in the UNC boy band. I guess hanging with the boys on-stage more conducive to showing off than handling the stage on his own. His vocals were good, he's got a nice voice, but he's boring. Randy congratulated him on the Tarheels achievement, dioTardi said the song controlled him, Paula said something about a rainbow and Simon called him a singing Yo Yo. (Another check in the Sound Bite column for Simon.)
Scott MacIntyre wins the cutest baby award. He was an absolutely gorgeous little bundle of love, actually could compete alongside me as poster child for Damn Cute. Scott was even cuter than this puppy who is wearing a toilet paper roll on his leg.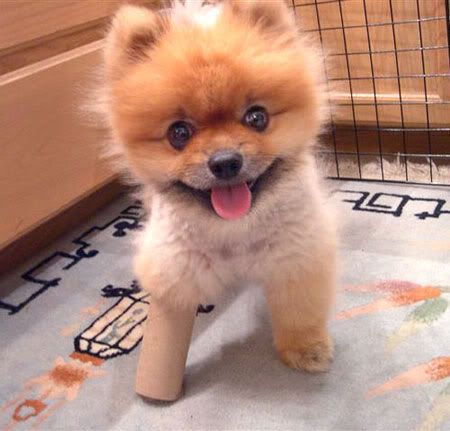 With Megan Joy flown the coop, Scott brought his "A" game for next Worster contestant pulling all stops. He dressed in black rocker/biker gear complete with a black guitar that he noisily hit the strings now and again. Had his hair donned up like a true '80's rock stah performing Survivor's "The Search is Over". Scott was flat in parts and provided some awesome off-key warbling complete with a jacked-up falsetto that had me writing Dave to pick him, man, he earned it! Brilliant strategy since we all know he's not winning this thing. Importantly Scott went with his quirky humor and decided to pull a Bon Jovi -
"Blaze of Glory"
. Much love for Scott, and much increased respect. I gave him a standing O.
As far as the judges comments, they can suck it.
Allison Iraheta was a cute little tot and she lets us know she'd had singing lessons and it shows, pulling off Bonnie Riatt's "I Can't Make You Love Me". Not one of my favorite songs but she made it work. Man, this gal finds the most interesting things to wear, her skirt looked like some sort of cowgirl gladiator apparel. Loved it. She was the best of the night so far and if she lands in the B3 again on that 'familiar chair' those idiots power voting for the likes of Hokey need to have their phone options canceled.
Judges liked her but Simon had to comment that perhaps the voters just don't know who she is and not that popular, prompting her to ask in a quiet voice, "So nobody likes me?". Shame on you Ameerika! Voting just for the erroneously perceived 'cute guys'; Word, they're not gonna date you. Kara wanting to sound cool yelped something about 'let's go make a record!'. Like she's going to fund that project. *insert eyeroll*
Matt G came out in his Justin Timberlake outfit and did 1985's "Part-Time Lover" likely a tribute to departed Alexis according to the rumor mill. His opening segment was ridiculously cheesy. Apparently Matt was one of those bossy diva kids - film footage showed Matt glaring and throwing his weight around (all 75 pounds) while wearing his angel white in his role as head angel in a school production. Sad thing, he seemed obnoxiously proud of that moment as he recounted how he had 72 lines (!!!). Yes, Matt that's your defining moment of why you should be famous. I will be nice to Matt for a moment, he has a sort of an Al Jarreau thing going on with his vocals.
Best judge comment, Pauler, showing that even while heavily drugged can count better than dioTardi, she said to Matt, "Two Words, Standing O."
And now for the guy who's likely to win the whole enchilada: Adam Lambert. He's candidate for next Cutest Baby, loved his introduction, as if we needed to guess, he wasn't much into sports and preferred to play dress up. With Capes. Doesn't get any better than capes, well except masks. Uber great dress up combo, capes plus masks. Adam was born in 1982, selects "Mad World" by Tears for Fears one of my fave 80's bands. Adam's genius shines through as he while seated, performed the tune in an uber controlled styling with just blue light filling the stage. Can't tell I like Adam one bit now can you, dear readers?
First time in the history of this show, Simon Cowell gives a standing ovation. Enough said.