TV Guide has the most recent interview video with Alex O'Loughlin of "Moonlight" - the sexy vampire detective show returns next Friday, April 25th.
(TV Guide Video with Alex O'Loughlin, c/o moonlitmuse04)
Alex O'Loughlin has a healthy, seemingly ego-less viewpoint regarding himself and the television show. Alex says, in the interview,
"The fans love it so much. They're so…. They're so connected to these characters and they have so much invested in the stories and the future of these characters. You know, to the fans, Mick St John and Beth Turner exist. You know, and to me they exist too. They have to, otherwise there is no point. I have no place telling that story. But, I'm really grateful… like without… I don't know whether we'd be here without our fans."
That's true for any artist of any genre, be it television, movies, art or music; you are nothing without your fans. Sometimes ego can get in the way of rationale, the fans forgotten or discounted, mistreated. Certainly there are those fans who are like the family hound, they'll stick around no matter what the artist does or how they may act. Thing is, there are more that are not that way; fame can be as elusive as smoke, waft away on the next breeze that blows through.
I had not heard of Alex O'Loughlin until this series debuted. I'm a huge fan of this type of genre and while I expected this series to ape "Angel", I found it refreshing in that it held its own edge, own storyline. Many early critics of the show pegged it as an "Angel" offshoot immediately, without even giving it a chance. That was to their error.
I admit, the first show, the debut of the series, showed rough around the edges. Thing is I picked up on the potential. I also picked up O'Loughlin's magic; the man can transmit emotion and feeling better than most actors on the home-front tube, currently. He's bloody fetching to look at too, which helps tremendously. His co-star who plays love interest Beth, Sophia Myles, is a perfect screen fit for O'Loughlin's character, vamp-detective, Mick St. John.

Top this casting with the inclusion of Jason Dohring and Shannyn Sossamon and the show has to have some of the strongest available-to-work-television actors on the market today. If you start searching Youtube, for those who maybe haven't watched this series, you might be completely amazed at the cult following that has sprung up around this show. Too, fansites rival those of rock stars in number and enthusiasm. I know, it boggles the mind, all this fuss over a TV show. This a show that the network operating it, CBS, is folly enough to even consider canceling. Man, that would be the dumbass move of the decade for this network. Currently their claim to fame hover around the CSI series and reality fare such as "Survivior" and "Big Brother". In my never humble opinion, reality television seems to have had its run and heading for the downturn.
Fans of this show have also gone to the
American Red Cross
to show their support. In turn the Red Cross has taken O'Loughlin as a poster boy to drive blood. Yes, a show about a vampire is creating enough passion and heart to have fans hitting the blood banks to donate. Irony like this makes me smile. It's a great cause, and should be making more impact at CBS than sending in those ten thousand pounds of peanuts for "Jericho".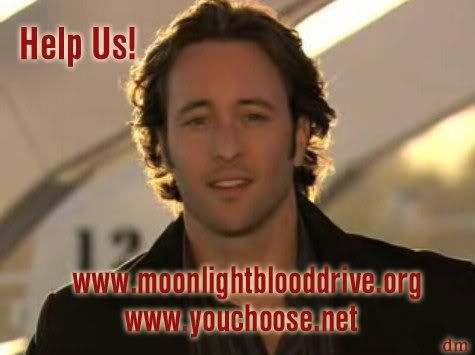 "Moonlight" mixes a little Mickey Spillane, Anne Rice, a touch of Tanya Huff, and a glimmer of "Magnum P.I." in the main character's sense of humor. Since Ron Koslow had a major hand in the creation of this show, from what I understand, anyone familiar with his work can see his presence in the romantic structure behind the show's main characters. The whole feel of star-struck lovers flows through the storyline, similarly to what viewers experienced in Koslow's series from the '80's, "Beauty and the Beast".
Alex O'Loughlin's vampire, besides possessing wit and humor, is also conflicted, detesting the vampire part of himself. He remains on a quest to 'cure' his dark nature and return to human form. Mick St. John is different from many of the vampires portrayed in the stories of old, he feels emotions, falls in love, he can go about in daylight for short periods of time, but it does weaken him, can make him sick. I am enjoying how his character feels honor bound to hunt the evil elements both human and supernatural. (A lone similarity to "Angel".) He also avoids feasting on the blood of humans, instead procuring his 'diet' from blood banks (which lead to the ironic American Red Cross program), with the exception of the occasional bad guy who naturally will deserve mauling.
For the girlie part of myself, I'll include one of the fan videos from youtube, that sort of sums up the series so far, just to indulge myself - plus I like the tune that accompanies it: c/o tashzillion
This video focuses on the romance part of the show: (the part the fans love) video c/o moonlitmuse04:
Fansites for "Moonlight" include, but are not limited to:
Kandye Girl's blog
(I think she was the first), the
Wordpress listing
,
Moonlight Detective
,
Moonlight TV
,
Moonlight Archive
.
Forum sites like
TV.com
, finally,
CBS
opened a fan forum -
yesterday
- for the show. Many of the above listed websites offer forums, as well.