Jason Castro performs "Somewhere Over the Rainbow" delivering live imagery and emotion to Paula Abdul's comment about Jason Castro early in the season's competition. Ms. Abdul described Castro of emitting a rainbow of colors; last night Jason Castro delivered that rainbow, armed with a simple ukulele.
Certainly the show was feeling the moment. Colored lights flashed through the audience and the background light screen shone with the many colors of Castro as he performed the song made famous by Judy Garland in
The Wizard of Oz
.
Jason Castro gave it a change up, performing the tune in the style of "Iz" complete with a ukelele.
Iz
was a popular and revered Hawaiian artist,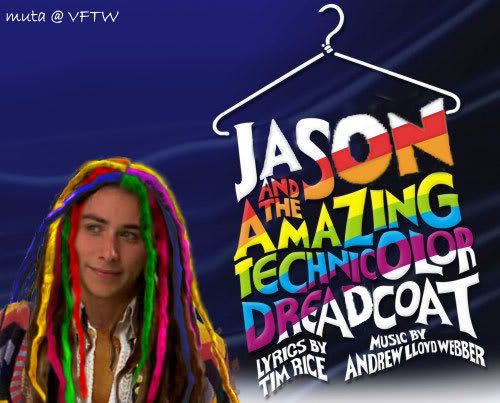 this version of the song used in commercials,in television and movies such as "Meet Joe Black". Last night, awash in the glow and glimmer of the rainbow of hues that is Jason Castro, he did the song justice.
(Image a collaborative effort by muta and myself, late last week; my words, muta's choptastic skills.)
Jason Castro showed another side in his overall demeanor in the pre-performance interview. He toned down the hippy-dippy approach and instead reflected a determination, a gravity. Jason's decided he might really want to win this show. Last night, in a brilliant performance employing his voice, the ukulele and some violinists, Jason Castro highly upped his ante.
"Somewhere Over the Rainbow" Brother Iz version, Jason Castro - video c/o JooJoo211
Granted he's up against a tough playing field and he's certainly no glory-note belter. Thing is, Jason delivers an honesty, he provides an acoustic beauty in his performances that have been sorely lacking in this commonly over-produced melisma drenched Pop music driven reality TV show.
Castro, through his rather new and budding musicianship, is providing a missing link for this show. He's certainly not the seasoned 'reality music competition contestant' like wee David Archuleta. He's not the already been signed to a label like Kristy Lee Cook and Carly (Hennessey) Smithson. He's not a contestant who has already toured in a band with wide national exposure like Michael (Lee) Johns, in Australia.
Jason Castro's performing resume' goes something like this; he's sung publicly in church, he performed in a very small neighborhood band competition in his hometown. Jason performed down in one of Dallas' Arts Districts, Deep Ellum, to positive reception. Castro had a minor role in a reality show featuring Cheyenne. He was part of a local Christian rock band during his teen years, Keeping Lions, which I believe morphed into Charlemagne.
Dial Idol results
: April 9th, 2008
David Archuleta 1-3
Jason Castro 1-6
Kristy Lee Cook 1-6
Brooke White 2-8
Michael Johns 2-8
David Cook 2-8
Syesha Mercado 4-8
Carly Smithson 4-8
Castro, keep the Faith.