Jason Castro has done it again. Just like in a few weeks past, Jason Castro has elevated another song from the depths of iTunes, bringing it to the top of the iTunes charts. A few weeks' past, Jason elevated "Hallelujah", the Leonard Cohen song, with Castro utilizing the Jeff Buckley version to a half a million digital copies in a few short days following the show.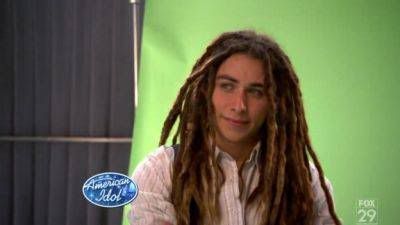 It would seem obvious to anyone looking at the statistics as we see, again, that as yet another tune Castro performs on the show, climbs up the iTunes charts, this guy has commercial appeal.
The late, great and inspirational Hawaiian musician Israel Kamakawiwo'ole's version of "Somewhere Over the Rainbow", since Jason Castro's performance, has hit number 8 on the top sales charts on iTunes as of this morning.
Man, I'm ready to invest in some of that Jason Castro 'stock'.
Jason Castro should find himself in the enviable position of having artists campaigning to have him perform their songs with the apparent rate of commercial success he is exhibiting. If the folks running the
American Idol
franchise are not understanding the potential of this kid, they need just close down now. A lack of understanding the depth and breadth of Jason Castro's potential, his talent would indicate a truly lack of comprehending the American public.
The show thought they had the next "Hannah Montana" in boy wonder, David Archuleta, but they are wrong. David Archuleta reminds me of that Peter Sellers great movie,
"Being There"
. Archuleta seems to me, more a "Chance the gardener". It may be that he's being perceived, by many folks, to be more like the mistaken 'Chauncey Gardiner'. Certainly he's talented, but he transports and communicates no personality other than 'awe shucks'. He lacks an emotional connection too, when he sings - I don't feel it.
American Idol
failed already once in judgment by their obvious dismissal of Taylor Hicks. Taylor Hicks remains one of the most successful, to date, contestants on the show in its history. He managed through his certain brand of genius to connect with the American audience in a completely thorough way. It didn't matter what curve balls he was thrown to knock him off his mark by the show, his fans rallied behind him. Taylor Hicks and his Soul Patrol fans created a perhaps never seen again, complete overthrowing of the Idol machinations. I think the ratings of the show reflect somewhat the disrespect, the show is showing Taylor. Even last night on "Idol Gives Back" rather than have Taylor Hicks on the show, they feature their 'money-boy' Chris Daughtry.
Returning to the subject of Jason Castro, his performance this week was another show winner like "Hallelujah". As I've written previously, he may not be the glory-note belter or the "King of Melisma", but he delivers consistently, heart and soul.