I'd say 'say it isn't so' if it wasn't glaringly apparent it just might be. Taylor Hicks' first single released from his win on A.I. 5, if what I have been reading this morning is correct,
"Do I Make You Proud"
- is being recycled. I am all for recycling but this form of recycling takes that idea and makes a turn for the bad. That song had it's place, it's place was Taylor's finale song. Granted it's a rather saccarine schlocky tune, but it fit Taylor Hicks'
Idol
campaign and win.
I know some of Taylor Hicks' fans might think this is a great thing, but having the producers behind the
Idol
shows use that tune again on
Asian Idol
, basically diminishes the song, not to mention in some vague, heard-it-before way, cheapens the whole
Asian Idol
experience. Come on, there are some songwriters out there folks just dying to have their song sung on
Idol
, please, go mine some new talent. (Oh, yeah, that might cost a few bucks.)
"Do I Make You Proud"
seemed made for Taylor Hicks for a number of reasons, to start, he was the Unlikely Idol, a gray-haired guy who wore polo shirts and casual jackets and looked way too old for the competition. He was a come from way-behind Underdog that somehow mastered the art of competing in this show and to boot, like a great savory cream gravy, a crazy mad fan base sprung up like nothing else seen before or since on
Idol
. Taylor Hicks' fanbase, called 'Rabid' by many, known as "Soul Patrol" by most, has made their own form of history. This fan base became an entity all of themselves, making a recording artist's fans more than just a group of record collectors and concert attendees. This group carried Taylor Hicks on their collective shoulders to the show's top spot, against all odds. Granted some members of the "Soul Patrol" are taking the "Patrol" part a little too far in the actual meaning, but I'm saving that for another story.
"Do I Make You Proud" seemed almost a tribute to these members of the "Soul Patrol".
Because of you I am standing tall,
My heart is full of endless gratitude,
You were the one, the one to guide me through,
Now I can see and I believe it's only just beginning
Even the chorus seemed reflective of the man, to be a surviving musician in career that pays for a lifestyle, from years of struggle and hardship.
This what we dream about
But the only question with me now
Is do I make you proud
Stronger than I've ever been NOW
Never been afraid of standing out
But do I make you proud

I guess I've learned, to question is to grow
That you still have faith, is all I need to know
I've learned to love, myself in spite of me
And I've learned to walk, the road that I believe
I admit to shedding tears while he sang it, man, I was just like David Hasselhof. I really think
Asian Idol
should find another song. The songs for the
Idol
contestants should try and represent them to a large degree. Granted there's nothing wrong in someone else later recording that song, but to have it used again, recycled really into the finale song for another branch of
Idol
, that just doesn't work for me.
Word out although not confirmed on either Taylor Hicks' myspace or his "Official" website, he's rumored to appear on
Asian Idol
. Granted it's not new news that he was planning to take a trip East to Asia currently, so this rumor may very well be true. The only place I have found this mentioned is in
Wiki
and while Wikipedia is a fun place to visit with sometimes accurate information, anyone can build a Wiki page and anyone can add information to the pages. Certainly if you use Google and put in the Asian Idol + Taylor Hicks search you pull up many articles, but none with direct mention, only tag lines.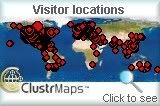 On this
forum
(click the word forum) there seemed a little surprise that Hicks' would have a following overseas, but I know from my blogging experience on this blog spot, he was followed quite avidly by many Asians while he was on the show and since. My latest Clustermap is my third since I began this blog spot, with having to rebuild and restart the blog a few times due to crashes and 'outside interferences'. Each time I have restarted, the Asian countries always have a strong showing in visits. This trip East for Taylor Hicks would be very advantageous for his career and most likely record sales. That said, it sounds quite probable Taylor Hicks will make an appearance. I just hope the show doesn't have some sort of 'sing off' in mind with multiple versions of "Do I Make You Proud" sang by the
Asian Idol
contestants and Taylor Hicks. That would be a little over the top in schlock.