First thing that hit me last night was Paula. What was she wearing on her arms? They were like sleeves, yet almost gloves. I'm guessing she was bringing Madonna back or something.
Now that the Top Ten have been 'selected' the show is on a count down to the confetti and glitter finale. At this point I'm envisioning David Cook as last Idol standing. Granted he's taken already created versions of songs not normally considered rock songs, revised into rock songs, but he's done it well, and he possesses a very nice voice. I dare say for this season's 'Daughtry' he outdoes The Daughtry in the vocal department.
First batter up to the plate was little and lovely Ramiele Malubay. She was ill according to the judges, and they all chimed in as being under the weather as well. She had chosen, "Alone" by Heart, a big song to try and pull off. Season four winner, Carrie Underwood did, and with grand style, season six had Gina Glocksen do the tune and it was one of her best that season. I thought the song was handled alright, but Ramiele was not a stand out of the night. She has a big fan base and that may be what keeps her in this another week. Her cutesy baby talk banter is beginning to really irritate me, her comment,
"At one point my voice just went bye, bye"
, rather insipid.
Adorable Jason Castro was up next unexpectedly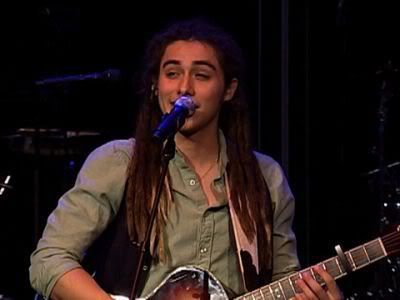 selecting a song by Sting, "Fragile". Overall he looked lovely, his vocals were very nice, but unfortunately he needs to change tactics or he'll be soon out of the running. This show is all about the surprise factor when it comes to certain weeks and how viewers see the contestants. Folks can be fickle and easily bored, if he is uninspiring, the votes will go to someone else or his fans won't feel the motivation. Granted this guy's got a huge on-line fan base, but even they will cut back on the votes if he slacks one more week. That said, it's a close race at the bottom, I just hope he survives this week.
Screamer from that hideous show, "The One", Syesha Mercado delivered a sassy, polished performance last night of "If I Was Your Woman", by Stephanie Mills. Annoyingly she brought back the baby cry voice in an attempt to look more personable and add some goof factor. She was stressing her potential 'goofability' apparently to demonstrate she does have a personality underneath that cool and collected exterior. You know her handlers in real life are coaching this gal; "More personality SyScreecha, more humor, bring the fun, you're coming across like a robot."
Whereas the judges raved about her, I just liked it, but it was a better performance than she's previously shown. I think that sometimes the judges go over board trying to make their picks look better than they are and so elevate their own status. Actually, I had thought Simon might tell her it was a little bit 'cabaret' as Syesha threw in a lot of camera face and poses, but he abstained.
Sadly Chikezie Ezie reverted back to the 'orange suit' type performance we saw in the beginning. Granted his vocals sounded alright, but he's not Luther Vandross, he needs be Chikezie. I thoroughly enjoy this guy when he's mixing up the beats, and having some kind of fun. He performed "If Only For One Night", a Luther Vandross tune and this week fell out of favor with Darling Man. He loved Chikezie last week and the week prior. Hell, D.M. just likes the crazy, that's why he hangs with me.
For the most part I have never been a fan of The Police. I like Sting on his own, but with the band, not so much. Brooke White did "Every Breath You Take", I liked how she changed it up. She bobbled the entry but recovered like nothing happened so props to her. Mostly I was glad she left the crazy at home and did not spaz out an inappropriate "Woooo", although that would have been entertaining. Gone too the fluffy dress that made her look like an Easter Peep and she sat instead of trying to maneuver around the stage. Better than last week, but not as good as her "Let it Be". Regarding winning this show, I'm seeing her more like placing in the top four.
Michael (Lee) Johns aka I-coulda-been-a-tennis-pro, once again annoyed me just looking at him. I must reluctantly say, he knows his Queen and did an okay job on his conglomeration of "We Will Rock You" and "We are the Champions". He was not as good as he obviously thought he was following the performance, though.
He reminds me so much of Constantine Maroulis from season four.
I think that Carly Smithson is starting to see the undercarriage of that bus she's beginning to be tossed under. The show has perhaps gotten from her what they needed and she's on the down side of the Top Ten. Her tune, "Total Eclipse of the Heart" by Bonnie Tyler while not bad vocally in the song, ended badly. That big ending was wrong, drawing down her performance. She spends a great deal of time in this song bent over crouch that had Darling Man remarking, "She looks like she's about to take a crap." (Yes, he's all class.) Her facial expressions are just getting more strange, and really, she should consider wearing something to cover those arms - sleeveless only really works when you have nice toned upper arms - not even mentioning her giant tattoo.
It seemed apparent that David Archuleta's Dad picked out this song for him. Simon even sent a sideways message to that effect saying, "I'd be surprised if you picked that one out yourself." Little Archie sang "You're The Voice" as sung by David Foster. I'd never heard of it, and Darling Man just got up off the couch saying, "I can't watch anymore of this shit."
Simon was spot on describing the song as being like something you'd hear at an amusement park (he's thinking Disney) with "animated creatures". That was hilarious and very true. One of the most awkward moments of the show happened with Little Arch as well. Seacrest who has apparently taken No Time to get to really acquaint himself with any of the contestants blew it when hashing over Little Davey's upcoming Prom. He asked if Archie had a date yet, then pointed at a gal sitting with Davey's Dad insinuating perhaps he was going with her. What I missed the first time watching the performance was that gal appears to be his sister. Certainly you can go to a Prom with your sibling, it happens - someplace - but it was odd.
Kudos to Kristy Lee Cooke who actually showed some strategy last night. She pulled a patriotic rabbit out of her hat with Lee Greenwood's "God Bless The USA". Of course she was simply vote pandering by playing to the American consciousness, portraying herself as that good ol' All-American girl, but to her credit she sang the song well. that background image of the flag waving did not hurt her one bit either. Wonder if Dad slipped the stage hands a few bills for that nice display? Oh, I kid.
The winner of the night was David Cook. He apparently does his homework and came up with a great version of Michael Jackson's "Billie Jean", remix created by Chris Cornell. Remember, he pulled the Doxology rock version of "Eleanor Rigby", before that, and then had the Incubus version of "Hello". One could say he's basically developed a knack for imitating rock cover versions of Pop '80's tunes, perhaps something he did at home on the Karaoke circuit. That said, David Cook can sing. Nice vibrato, controlled and not on the 'goat-boy' side. This man should do well after Idol as an artist.
video c/o bonk 65
I was a little taken back by the shots of his baby pictures.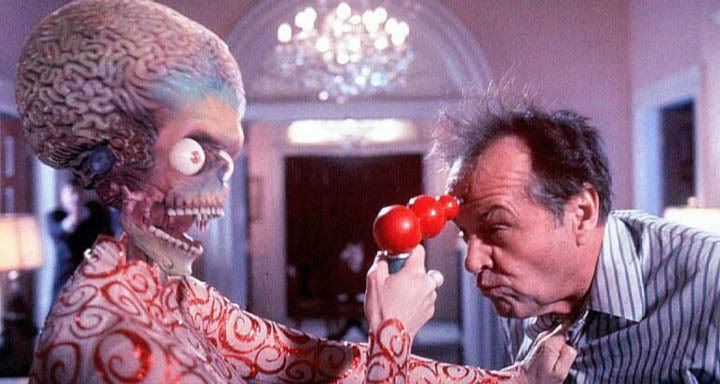 When the first one was shown, our FOX affiliate was cutting to commercial which was hitting on the upcoming news segments and seeing that baby picture flash by I thought one of the stories might be about a baby born with a giant skull. Returning to the regularly scheduled programming we see that in actuality that was David Cook as a baby. He was quite funny and self-effacing which made him seem pretty cool as a regular dude and pointed out that he indeed had this uber sized skull. I was reminded of the old movie
"Mars Attacks"
and I think if Dave lost the comb over we'd still see that sort of cranial imagery. He also bears a slight resemblance to Jack Nicholson, who also has a large dome. That said, he was my favorite performer last night.
Who do I think will leave? Hard to say today.