Tonight's journey into the
American Idol
experience, because that is what this reality show is becoming, simply an experience, brought with it topics spanning nasal mucus and lost hair. This show continues to draw focus even more blatantly on the outright manipulations apparent to foist a few favorites of the show's money-men on the public.
Thursday night, who should go home, Luke Menard and Chikeze Eze. Who may actually leave, Luke and David Hernandez. I think Hernandez sealed his fate with that story about his pea-sized booger. Why am I thinking this guy did this intentionally? Could it have been the news stories that broke this week, courtesy of Dave Della Terza and
VFTW
? Think about it rationally, if 'rationally' is a word that belongs associated with this show, who in their right mind would consider talking about a visible large glob of nasal mucous on national television to be forever associated with oneself?
Yes, I'm considering young Hernandez was coerced into taking a 'dive'. In sports talk that's when a match-up is throw to cover bets and profit someone paying to see a favorite lose. Not that Hernandez would have been around very long, mind you, he surely wouldn't win this thing, but this may well expedite his departure.
Scandals have become a part of the
American Idol
experience and as each season marches on the scandals seem to take over as the focus. Season Five, with the talented group of performers were possibly the last to have had the focus on what the show should have been about - music and talent. That was the season too, in which this show lost its 'innocence', at least for me.
Taylor Hicks, brought so much to the table for
American Idol
. It happened though, during his run that season as well as glaringly obviously after his win, 19E and companies associated have not given the man his due. Taylor Hicks should have been celebrated, and still be celebrated for the interest, the ratings and the massive entertainment value he delivered to the show.
Instead, Taylor Hicks was treated like a gray-headed step-child. Certainly his record sales did not reach astronomical heights following his incredible win, but then again, the guy did not have control over the contents of the album fully. Rather, the show tried to do what it does to the contestants during their time on the show; make him into their slanted version of what they think will sell. Whoever is seriously running this reality contest is so far removed from the definition of great music they need retire.
American Idol
did not
jump the shark
when it came to Sanjaya last season as so many viewers tried to claim. Fact be told, Sanjaya was
the
saving grace over a pitiful crew of lackluster, put-me-to-sleep boring contestants.
A.I
jumped the shark when they were stupid and foolish enough to disrespect Taylor Hicks, alienating a huge part of the show's fan base and audience. Sure the show still boasts big ratings, but it might very well be within its last gasp.
Speaking of gasp, David Archuletta showed doubtful commercial appeal last night. I could not fathom wanting to attend one of this boy's concerts nor buying his music. He is completely disconcerting to watch, his licks his tongue around like some kind of Gila monster and his vocals are full of rasps and gasps. Talk entertainment factor and he has none. Top two in this competition, maybe but they will find the ratings dropping I'm afraid as the publics' initial enjoyment of the novelty act the kid brings might begin to wear thin.
Danny Noriega pulled a "Sanjaya" moment last night from his hair streaked with purple to his act. Thing is Danny can sing, but he's so campy it can be misconstrued. Loved his entry back kick step. I certainly enjoy him, he brings the entertainment, and he's so pretty. Last night was a completely VFTW performance.
Michael (Lee) Johns is getting homelier with each performance. He's pale, his hair looks like a glued on glob and his smile is just not attractive. The judges praised him last night, and I think Randy had a drink from Pauler's cup because he went into complete babbling idiocy. Mr. "I-played-for-Journey" said that Johns brought the INXS last night comparing Johns (shudder) to Michael Hutchence. Let's see, that was a Simple Minds song and INXS never played it; song title, "Don't You Forget About Me". Simple Minds is not even an Australian band for God's sake, they are from Scotland.
The judges loved it for all the wrong reasons, I personally thought it a 'go home' performance. I am disliking this guy more with each show.
David Cook was much loved by the judges who once again displayed a complete lack of current music knowledge. Granted, Cook was one of the best last night, but that was about as original as Daughtry's "Walk the Line".
Incubus
did that tune that same way already. At least his comb-over hair looked better.
Chikezie Eze was working the Luther Vandross last night, with "All the Woman I Need". He was boring, flat, and Simon killed him with a knife thrust jab that had Whitney Houston on the handle. He should leave soon.
Best for last. Jason Castro had a unique embarrassing moment, he lost a dread apparently somehow while at dinner with a new date.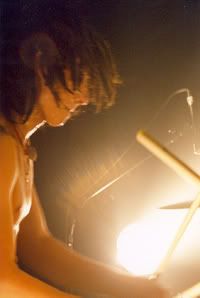 I'm curious how that might have happened, certainly I could see that possibly happening with an over enthusiastic "desert session" after dinner, but not while sitting at the table trying to actually eat dinner. Past that point, he was his goofy self all pretty and adorable and 1970's stoner-like. (Takes me back to High school.) I absolutely love Castro with his
Legolas
type of appeal, his lovely can-they-be-bluer eyes. I find this guy natural and very sweetly engaging. The song he selected was high in the degree of difficulty, he stood without guitar and did a more than decent job. He's had no vocal training, I can just imagine what a vocal coach could do with his natural talent. He lost it the last note, but it was done with such a sweetness I forgive it, plus it seemed to go with the performance. Jason seemed to think he'd he botched it; he was adorably aware and ready to take the heat. Interestingly, Simon Cowell loved him, even calling the performance, "Brilliant". I agree.
"Hallelujah" Jason Castro