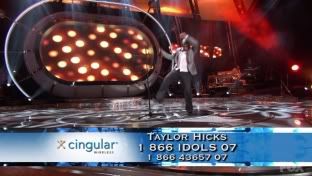 I was Esctatic tonight - the
Gorgeous Soulman
, brought it - signed sealed and delivered! The Queen song, "Crazy Little Thing Called Love" - far exceeded my expectations. Truly fun, great, adorable -the mic stand thing-I LOVED IT!!!! You're back Taylor and you let those Big Cahones out to strut your stuff!! I think SoulPatrollers need to get Serious Right now - Simon Cowell is BLATANTLY trying to throw this competition.
(What does he have betting money on this?)
His comments tonight -
"Are You Drunk?"
to Taylor, were completely Out of Line and offensive. I urge everyone and anyone who is a Hicks' fan to start threads, post comments deriding this 'judge' on AI5 for his out-of-line and out-of-parameters discourse regarding Hicks' performance on the show tonight. I, personally think, he has big $$$ riding on Chris Daughtry and he'd hate to lose it...
Let's Give Simon that "Horrible feeling" - and I am hoping a "Horrible Hangover" in the morning when he wakes and sees Hicks STILL leading the pack!
Groove on Soulman!