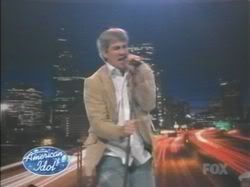 ....after my beloved idiot of a canine, Cody demolished our bedroom's sliding screen door trying to get in the house, threw up all over my vehicle's back seat and floor boards, then urinated on the front porch planter, "Awe, Momma, he is having The Worst Day Ever!" Yes, he (?) was... This morning while getting her ready for school she informed Cody, "Today's a new day and a fresh start for you, Momma can't be mad at you still, 'cause it's a new day an' past is past." She's my little philosopher at the tender age of 7...
To utilize a quote appropriate to my train of thought today, uttered by the colorful,
Quentin Crisp
,
"If you describe things as better than they are, you are considered to be a romantic; if you describe things as worse than they are, you will be called a realist; and if you describe things exactly as they are, you will be thought of as a satirist."
I plan to take the satirical stand according to Crisp's definition. Here are some links to reviews I have gathered regarding last night's American Idol performances. (Checking my 'romantic' side at the 'door').
http://www.gambling911.com/040406Hnews.html
http://www.timesleader.com/mld/timesleader/14268760.htm
Comments that say it like it is; from Gray Charles.com
TrueNorth
Says: (writing back to Soultrain's quote)
Soutrain says -
"It seems so silly force specialist singers to sing genres of songs outside their style. The public doesn't challenge superior piano players to strum banjos to prove their talent. No one should have to do everything. Taylor's amazing at what he does and he should be able to do it every week! "
True North replies:
NO SALE. There are a gazillion great songs he could have done that he would have kicked ass at. (I'm not gonna say it…) What the F*CK was the thinking?
I don't know who this True North is but I am finding we have a great deal in common in our thinking.
as the evening progressed...
TrueNorth Says:

betcha chris comes out and kicks our ass
...which he seriously did and it hurt *OUCH*!!! Mr. One-trick Pony jumped off his used up steed and delivered. Hicks boards were trying to tear Daughtry down, but I disagree, he was very good last night.
TrueNorth Says:

I feel sick.
The fact that Taylor's Grandmother was in the audience, looked like she was up in the front row, might have held an impact, made Tay nervous. His lead in by
Kenny Rogers
was one of the
worst
I have ever heard given by a guesting star. Rogers was negative toward Taylor and that may also have impacted the performance. Of course
looking as absolutely frightening as Rogers
did, and looking as adorable as Taylor does, the over plasticized Rogers may have had issues with Hicks...Rogers did show a wierd fondness for Ace. ;)
Timbo
Says:
I thought the entire night showed very little preparation by anyone, including the band, support, staging, judges, contestants, everyone. I think the whole production of this show is becoming lazy. I have not been entertained now for two straight weeks except for Taylor's performance last week. I think that someone made a very bad decision staging the fiddle in front of Taylor and focusing more on the the fiddler than on Taylor with the camera. I think that the comments made by Kenny Rogers were not complimentary and I think that he was a useless wart on this show–
(I reallyliked that part)
his absence would have provided more time for performance. I think that Taylors mike was turned down so that the band drowned out his vocal. I am voting for Taylor, but I wish I could take out by frustration on somebody. Oh well, if next week is not better I may not even watch the show but just vote.
I think we may see Mr. Rogers nominated for Worst Guest Ever on Idol. Definitely the Worst Plastic Surgery Ever candidate.
It may be that Taylor was either not feeling well or was unhappy about something. I read on a few other sites that his first song choices were denied by AI (truth???). Rumors had been circulating this week he wasn't feeling well also.
One common comment I have read on most of the sites is that, overall most folks agree that Taylor Hicks is changing the face of Idol, I stand by my article posted in
Blogcritics
. He has benefitted this program more than 19E vil and AI may even realize.
Moving on to next week, Queen Theme, I think "Somebody to Love" would be an excellent choice; lyrics such as, "I try and I try and I try, but everybody wants to put me down. They say I've gone crazy."
Good theme there Soulman, and a decent tune.
Dial Idol Results:
Hicks at #1 with 37.33
Katharine McPhee at #2 with 28.589
Kellie Pickler #3 with 28.135
Chris Daughtry #4 with 26.915
Ace Young #5 with 23.787
Bucky Covington #6 with 23.113
Paris Bennett #7 at 19.035
Elliott Yamin #8 at 14.184
Mandisa #9 at 13.177
We'll see the results tonight. Mandisa, Elliot, Paris chosen for bottom 3. Dial Idol isn't the rule, look at last week...Kat in the bottom 3.
Let's hope some freakish turn of the cards (humming Dick 'Plastardly Rogers stupid 'Gamblers' song) doesn't turnout with Taylor singing "Country Roads Take Me Home" again tonight.
Groove on Soulman. (((Hugs)))