Taylor Hicks has decided that this Valentines Day will not be spent alone or just in the company of Bill Will. He's striking out, or rather heading over to the
Regis and Kelly Show
with hopes of selecting a date. He's entered into a contest along with another 30-something guy, Danny Boome, whom I've never heard of, to take his chances in the show's "Dating With the Stars" contest.
Reading up on the 'other guy', Danny Boome, he's described as a "British charmer" and apparently hosts Food Network's "Rescue Chef", and V-Day is his birthday. Apparently he's a highly trained chef, billed as being "great in the kitchen". Images of Danny standing in his birthday suit, a chef's hat and long apron, come to mind.
Taylor Hicks on the other hand, won't make you French Toast, but he is described as doing "Grease"... Mr. Hicks hobbies are listed as golf, scuba diving, skiing and watching college basketball. What no long walks on the beach? Wait, he tried that... once.
Seems Mr. Hicks likes those serious during the week types that toss their horn-rims and get crazy on the weekends. The part of "...If your heart is ready for a little Soul Patrol… Taylor is your guy." That absolutely slays me.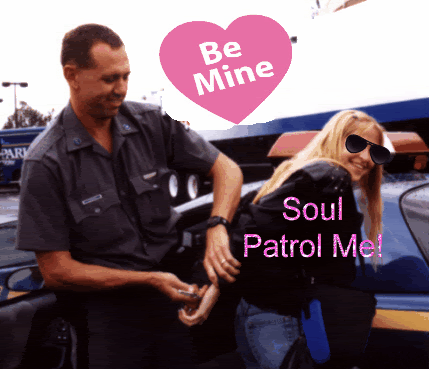 "Can't Get the Girl (Without the Good Stuff) The Handcuffs.