Taylor Hicks front and center in my email box this morning, squeeing over the Jonas Brothers. I've been 'under the weather' sleeping for what seems a week with fever. What do my 'Rip Van Winkle' eyes spy as I blearily try and read my emails? Taylor Fangurling out over the Jonas Brothers with a herd of Tweentards. Well, or so it would seem. Figuring Mr. Hicks was in full rowdy form, hanging outside the studios of
Regis and Kelly
, this video I found on youtube confirms it.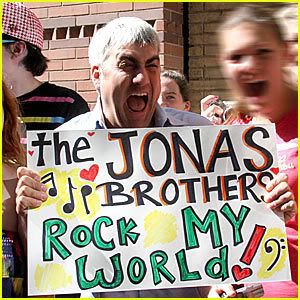 The reality of the moment have The Jonas Brothers soon to arrive at the studio to promote their upcoming new Disney movie, "Camp Rock" which premiers June 20th on the Disney Channel. My youngest daughter is currently anxiously awaiting that debut. She became a Jonas Brother fan after I took her to see that 3-D Hannah Montana movie - they were 'guest' performers in the movie.
Check out this youtube feature c/o
yesitsme9
, and you get the whole goofy story. Man, I've said it before, but Mr. Hicks comedic bent is downright "John Cleese-ian".
As the youtube starts you see the tweenie girls milling about, some doing the "Ashley Furl" tears. About a minute in, Hicks comes in from the back and while holding one of the posters shows the little girls how to really scream. hahaha.
Of course annoying "We Hate Hicks" blogs and sites are working this to the best negative. Frankly, most folks without the benefit of a working laugh track, are clueless when it comes to humor.