Walking my dog Cody and daughter Daphne tonight, we passed the creek near our home. The creek divides a golf course which is currently under construction and the area looks like hell. We had just spotted a cottonmouth winding through the creek when a man walked up with his Australian Shepard. The resemblance to Chris Daughtry was staggering (the guy, not the dog - just to be clear). Daughter Daphne was amazed and whispered to me, "Is that the bald haired Idol guy?" (She's only 7 so to her it could happen.) He stopped and said hello and we chatted for about half an hour, about the snake, the bobcat that has been roaming the area; I saw it in my front yard last week and promptly called animal control; and the sad fact all the fish seemed to have left the creek and the nearby fishing hole.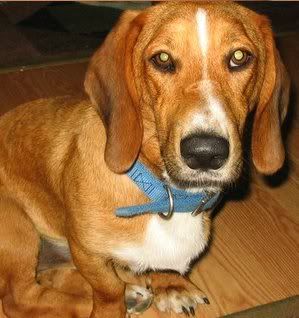 (this is Cody; he's funny looking but he's a great little guy)
I've heard talk everyone has a twin -
'yo Chris I met yours today'
; and a nice guy to boot. Now where is Taylor's twin???