Taylor Hicks an American Idol? More accurately, Taylor Hicks redefines the face of Idol. I have see Hicks' influence over this talent show splattered about in so many places. This article just out in al.com sums up what I think happened on Hicks' "hometown" visit during the Idol finals.
Simon Lythgoe, producer Nygel Lythgoe's son, accompanied Hicks to B'Ham. Witnessing the burgeoning crowds present at all of Hicks' appearances in Alabama sufficiently impressed the producer's son, Simon, that it swayed the opinion and the stance Hicks had held on the show. Simon L. went along with Taylor, I think, to see and feel out the impact Tay was having real world, for the show. Taylor's presence on Idol this season was felt by the numbers - the number of viewers and voters, all on a substantial increase, not to mention all the internet on-line buzz generated largely by the Silver haired Soulman. I think Simon L. was out to see exactly what "they" had in the real way of possiblities with their initially unlikely favorite.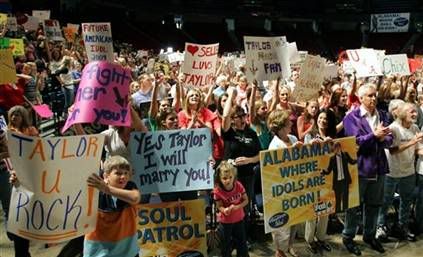 These two photos provide representation of the Hicks at home fan base. One other issue that hit home with Simon L. is the fact that at the venues in Alabama that Tay visited, with posters being waved by folks from all over the country and some from even other countries! These were people that thought enough of the Soulman to drop what they were doing, fork out the money and travel to see him!
I imagine the producers of
Idol
had to suck in their breath at the magnitude of this revelation. It shut up the other Simon, Simon Cowell, once and for all. He smiled and was polite throughout the rest of the shows. (Anyone notice that besides me?)
Taylor filled the largest Mall in Alabama, located in Birmingham; there were what looked to be 1,000 people outside the
Rick & Bubba Show
radio broadcast studio, (complete with a
groundhog
in tow, the parade route was filled, the FOX 6 stage, and his stop in Montgomery drew in a massive groups.
Think about this, when Puxatawney Phil's cousin shows up outside of a radio station decked out in her Springtime bonnet, you had to know who the next winner would be on Idol. Simon Lythgoe saw the painting on the wall and the bonnet on the groundhog and the rest became Idol history.