Adam Lambert may be the man sent from - well, California - to save
American Idol
(or rather some of us saps that watch this show year to year) from the reality church show that it may be becoming.
The show, this season is seemingly on a transition into what may be later known as the Season of the Church. Idol has a big share of contestants who attend church on a regular basis and are youth leaders within those organizations. Danny Hokey-Gokey, one of the first to break news of his ties and affiliations. I'm not saying that because the contestants are coming out and declaring their Jesus Love a bad thing, rather how it's becoming an increasing focus on-line and in their bios. Not to sound like a spawn of Satan but I find this disturbing.
Certainly this will please many viewers in our Bible Belt States; certainly it's a matter of time before tales of their
throwing their money away
contributing devoted donations to the church of their fave Idol. Naturally, this simply - in their minds - the right thing to do, it demonstrates further their complete devotion toward the reality show contestant of their selection. I'm amazed at how many people must be experiencing some sort of insanity that couples religious deity affiliations into their psyche. The amount of prayers found in the on-line boards for these contestants is slightly startling. The
TopIdol site
has been covering some of this underbelly of Idol, if you will. I have been finding the information they have been uncovering fascinating in a strange, sad, yet hilarious way.
I'm thinking, next season, at this rate, Idol will start the show with a bow your head in prayer session. Hell, pop out the flag and say a pledge. Make those television viewers feel so good about all those text messages they're spending their money on in this depressed economic time.
Reminds me of all those charitable organizations that pop up each season around various Idols, blatant intention of gaining the attention of said reality show contestant. Back in 2006 when Taylor Hicks was competing, kicking ass and taking names, certain fans (on the Idol boards) began collecting funds to buy him a new couch. These dear souls could not think of the man returning to his B'Ham apartment to that duct taped tattered mess he had been previously passing out on. Thing is that couch situation remains wrapped in mystery as to what really happened to those collected funds. I wonder if any of these contestants have need of a new couch? Dear Contestant, if you do, head to the Idol Boards and send out your request. Someone
A grifter
will be happy to oblige.
After last week's second group of twelve contestants did their thing, all had to swarm this one ragingly and outrageously talented guy. Gee, once again Idol has another guy who's been performing for years trying to have his voice heard. Thing is - is America ready for him to be heard? Let's all bow our heads.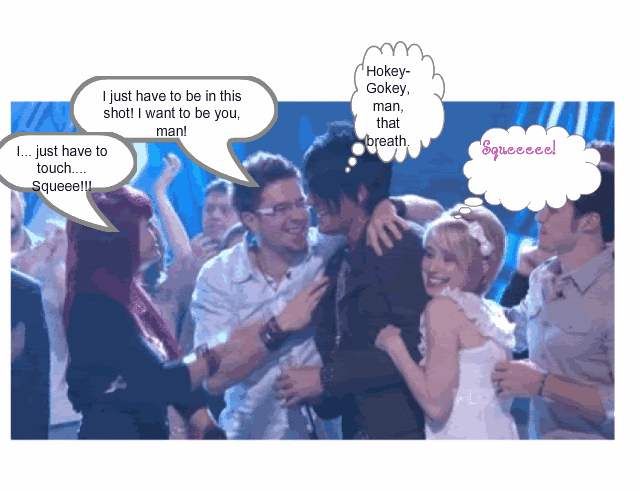 Randy Newman, "God's Song"