Taylor Hicks had a full day Wednesday, assisting Martha Stewart on her show creating Holiday wreaths and singing for the Nation and the President in the annual
"Christmas in Washington 2006"
special.
Taylor Hicks, exclaimed many times during his appearance on
Martha Stewart
, "I'm making a wreath with Martha!" Taylor was very charming and sweet, and created something I'd not ever seen happen on
Martha Stewart
; the man had Martha giddy as a schoolgirl. Taylor, ever the gentleman, brought Martha her very own harmonica and gave her an impromptu lesson, possibly in trade for the gracious wreath making moment shared with her.
Being on
Martha Stewart
was just a part of the Taylor Hicks on television experience yesterday. Taylor Hicks opened and closed the annual Christmas event,
"Christmas in Washington"
. I'm thinking this year, a better, more fitting title to the show,
"Taylor Hicks and Friends, Christmas in Washington 2006"
. Little
Bianca Ryan
, whom I wrote about earlier this year on blogcritics. org performed, as well as
Il Divo
, famed quartet from Spain, country music's
Gretchen Wilson
, the beautiful and talented
Corinne Bailey Rae
, and R&B young pizzazz man,
Chris Brown
.
Stepping off the topic of Taylor Hicks, I have to spend a paragraph of commentary on the hosts without the mosts of
"Christmas in Washington 2006"
. I'd be remiss not to discuss the caliber and quality of the distraction that Dr. Phil and wife Robin McGraw contributed to this event. Creepy, an apt discriptor to describe the good "Doctor's" expressions (Botox?), or lack thereof, not to mention his twangy
uber
-Texan, wooden delivery. Wife Robin was somewhat of a saving grace, but Dr. Phil's hosting quality brought this 'event' a
MAD TV
-esque comedic quality. Initially I was annoyed by Dr. Phil, but after the first few minutes I could only gasp and laugh. He was hilarious in a role that seemingly wasn't intended to be humorous.
Returning to the topic of The Soulman, Taylor Hicks, the man looked suave, fit and professional. He entertained delivering three bluesy soulful Christmas numbers to include
"Merry Christmas Baby"
and
"Santa Claus is Coming to Town",
he then ended the show with a gorgeous rendition of
"It Came Upon a Midnight Clear"
. My personal favorite of the evening.
(Thanks goes out to krunkgroovy and GoFish.)
With Mr. Hicks scoring four songs, he ranked the most singing time on this program, combined with his opening and closing the program gave it a feel of
"A Taylor Hicks Christmas Special"
. I guess that will come next year... Fabulous performances by all on the show, but especially from our man, Taylor Hicks.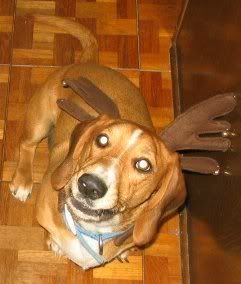 This is my best buddy and Taylor Hicks fan, Cody, wearing his Christmas best to watch the program with me.
Happy Holidays - and yeah, Groove on Soulman!