As I continue along my trail sniffing out the news
that grooves the Soul Patrol and Taylor Hicks' fans blogs I rechecked some of the sites I viewed the other day and found my little blog a subject of conversation at
The Caroline Lyders Fan Club
. Poster, 'henry8' in attempting to bring up the idea and discuss the concept of what I tried to communicate on my
Sunday Soul Sermon
, brought up my blogspot.(thank you kind person).
'henry8' obviously understood my thoughts on the condition of the whole fan base division. Sadly, poster 'Jeanni', who immediately brought up the fact that I post on MFOYA had no clue what 'henry8' was trying to say, nor did she want to hear. Humorously a small inquisition set in with 'henry8' seemingly scrutinized like some sort of Russian spy, prompting 'henry8''s reply,
I'm everywhere? Where else am I?
What on earth are you talking about. I never said anyone was making fun of Taylor. And I didn't know for sure that the author of the blog I mentioned posted at MFOYA. I just saw the blog in google alerts and thought it was good. I am sorry I mentioned it now. She didn't say anyone was making fun of Taylor either. What I said was that Taylors fans behaving like idiots can possibly IMO make people laugh at him .
One thing I found funny, that poster, 'Jeanni', is a gal who of late has been heralding her massive, mad investigative talents; yet she didn't take a moment to read the link before she spoke. Rather, she lashed out at visiting guest 'henry8' and tied my blog in with MFOYA. Perhaps I'm being cruel, but I do think folks like this quite possibly the inspiration behind the children's tale,
"Chicken Little"
.
Being a fan in
my
world doesn't mean sitting there like a Henny Penny following the hapless nut-smacked Chicken Little to the Fox's lair.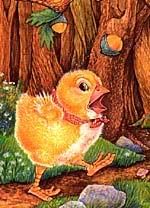 Perhaps my being a Libra, plus having studied law in college, created within me the need to look what's going on around me, and question that which might smack me in the head. I will make no bones about it, I enjoy the MFOYA site, but do I believe anything and everything I read there - or for that matter anywhere? No, that would mean becoming Henny Penny.
Playing Devil's Advocate, I don't understand the bad rap being hung around MFOYA's neck. I visit a large number of Hicks' sites, and consistently read MFOYA referred as "That Hate Site". I don't see 'hate'. I see snark sometimes, speculation often, debates always, and sometimes crazily marked up photos, but I have never read MFOYA cop anything negative about the man regarding his talent. Granted perhaps MFOYA has taken the whole topic of "the woman in the pictures", identity question a bit to the left but that's their call, it's their site.
I find it far more damning for fans to sit and fight with each other and name call over issues that none truly know completely. It's one thing to debate issues but to take it internally to the point you direct attacks at others by your disagreements over a singer/actor/public figure, whom you really don't know, well, that's just... nuts. Remember,
we can never be too sure who really is Foxy-woxy.