Taylor Hicks and his relationship with friend, gofer, assistant and sidekick have
been talked about at length in the fan forums. A certain fan and former moderator of a once popular site even wrote some humorous slash fiction about the two from what I understand. (Never read it myself, just second-hand information.)
In reality as Taylor Hicks would tell anyone interested, what they have is simply a close and trusting relationship. From what I understand, these two guys have been close friends for a very long while.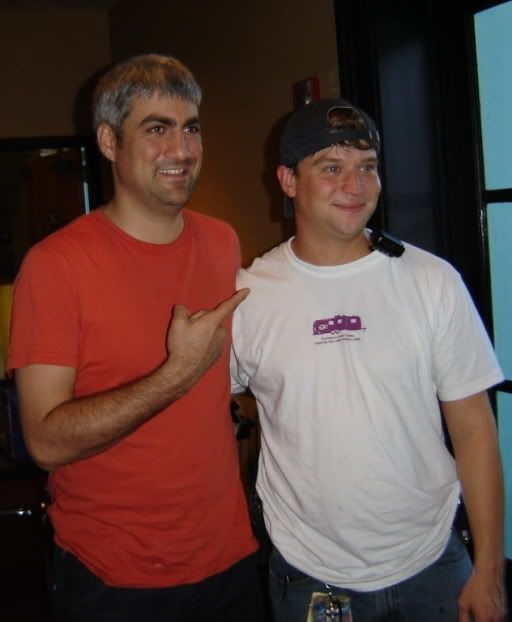 Today while perusing the righthickssave.com site, I wandered into the thread featuring this dynamic duo, with focus on their long-time closeness. I mean they are like true best friends, swapping shirts and hats like close girlfriends will do. I have this one friend, every time she'd come over she raided my closet. Sadly, though much of what she'd take I never saw again. (Like my awesome purple skiing outfit.)
Talk about having someone's back - Bill Will has that covered for Taylor in several shots
in that section
. As you can see, by scrolling down that page, the two guys are very close. Arm in arm close.
One of the commentors, SegerHicks, pointed out the resemblance of the friendship being comparable to say, Spongebob Squarepants and Patrick. That, one of the funniest comparisons on the page. I get that!
There's always room for a bit of mistaken meanings in words, pictures and the definition of closeness. Take this short clip from a show all about "Friends":
It's all a matter of interpretation and where your mind might be in the sexuality arena, perhaps. Now before anyone gets the wrong idea, I think with Taylor Hicks' lifestyle, likely it's reassuring to have someone close enough to swap shirts and hats, and importantly, to trust. Nothing says trust like somebody there to hold your flashlight.