Sanjaya Malakar's crazy, yet cool for its wild abandon, performance this week on
Idol
, certainly was a buzz-worthy endeavor on the young contestant's part. I admit this because I can be truly pathetic, but I was cheering like Sanjaya had won the Superbowl of
Idol
, when he broke free of his formerly shy demeanor (sans the hula). Man, I jumped and shouted. I brought back the Macarena - all over my den. Small moments of wild inspiration, that's what I live for, and this kid delivered Tuesday night.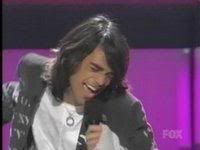 Aiding him this week, that sweet little gal in the audience, she looked about the same age as my daughter and her little Fanjaya buddies. While my girls did not cry, certainly they were screaming... and joining me in doing the Macarena. Ever the
Idol
trademark, absolutely great work in the show's editing direction, shots of that child made for good TV. Brilliant, that savvy man behind the scenes who kept cutting to that child's teary face, surely he's not getting paid enough, it completely fit into the British Invasion theme. I remember when the Beatles came to America, television news on every one of our three available stations were filled with black and white images of screaming, semi-fainting, crying girls. Words from Ralph Waldo Emerson, "Nothing great was ever achieved without enthusiasm". Sanjaya that was great.
Besides that sweet girl in the audience Tuesday night, the increasingly
famous
infamous site,
Vote For the Worst
ran by the canny satirist Dave Della Terza, has now been joined by new best friend, Sirius radio's Howard Stern are being attributed to keeping the boy in the
Idol
running. They look to be teaming up as the new Batman and Robin duo to save Sanjaya. (They can fight it out who is who.) During Tuesday's show Howard interviewed
Dave
, pledging his support for Malakar.
Howard
talked about his voting for Sanjaya on his show on Wednesday, many of his listeners responded by calling on air relaying their support of the previous night. First foreign call centers, now VFTW and Howard Stern.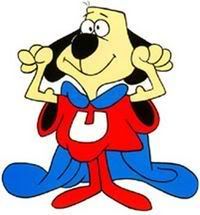 I mean, really isn't it a completely American Ideal, the concept of championing the
Underdog
?
As it says in the Underdog theme song:
When in this world the headlines read
Of those whose hearts are filled with greed
And rob and steal from those in need.
To right this wrong with blinding speed goes
Underdog!
Underdog!
Underdog!
Underdog!
Speed of lightning, power of thunder,
All the world cries out for Under
Underdog, Underdog!

Reading through some of the posts to several on-line articles about Sanjaya, he continues to create controversy, some driving the Hate Sanjaya Foundation into a fonting, spaztic frenzy. Man, there are some angry, prejudiced folks wandering this planet, and so many so-called experts about music I can't understand why there seems to be somewhat a dearth of talent in the music industry. So many "experts", so much opinion and all of them think they matter. With
American Idol
, it's a matter of Myth and Fact. Myth,
American Idol
is all about music, and Fact, this show is about making money, by hook or crook. It sadly amuses me to a degree the way this kid is getting the blame for every one of the cast-offs and the reason for this - skillful directing of the show, with pitting him weekly, with the exception of this week, against the one being voted off.
In this article,
A Love Song to Sanjaya
written by Verne Gay with Newsday.com, he says,
"What is it about "American Idol" that brings out the bloodsucking worst in some of us? That instinct to pummel the downtrodden, the weakest, the appointed loser? It's the "Idol" blood-in-the-water syndrome. Some of us smell blood. Some of us turn into sharks. (Some of us - heaven forbid - even turn into Simon.)"
Truer words never spoken when it comes to the mean spirited self-important rantings against Sanjaya turning up in on-line articles, radio and television news casts. Mr. Gay proceeds to declare,
"I'm going to vote for Sanjaya tonight and not because votefortheworst.com told me to. Even if - or when - he butchers his song, I'm going to vote for him because he's got heart - and courage and moxie and class. Whether we're willing to admit it or not, he's got talent, too. I'm going to vote for him because when I was 17, I barely even made it to class, much less subject myself to the abuse of an abuse-happy Idol Nation."
(I certainly can relate to his last comment.) This he wrote before Tuesday night's performance. I'm thinking many folks are jumping on this train of thought concerning young Malakar; I for one am disgusted by the masses making true asses of themselves in their pointless overly bitter assessments of Sanjaya and his place on this reality TV show. One thing, Malakar's mother should be very proud of him and I think Sanjaya Malakar is an
Idol
in the sense that he is proving to be an excellent role model for the kids who are fans of this show by what he's exhibiting week after week.
Examining my other thoughts on the rest of the
Idol
pack, I was somewhat surprised to see Chris Richardson hit the bottom two this week, if he is falling off in popularity, perhaps his Timberlake schtick is getting stale. Regarding the eliminated Stephanie Edwards, although the girl has a good voice, she failed to garner a fan base of any power which is fatal with this show. It's a competition, after all. Melinda Doolittle and LaKisha are considered the front runners this season, but I'm having difficulty picturing one of them as winning this show, more likely they may be "shockers" to be voted off. Judges were giving LaKisha the "eye-rolling" treatment this week, she received a subtle brush off during their critique of her song, "Diamonds Are Forever". Doolittle, overall, a stunning vocalist, but her overly graciousness act is growing stale for me. I mean, by now she's aware of how good she sounds and how much the panel like her. That 'Christmas-morning-and-Santa-has-come' expression is growing stale.
My favorite of this season, (besides my boy Malakar), is Jordin Sparks. This girl has all the earmarks of being highly appealing for the commercial market. Her performance this week, once the show was over had me forget what Doolittle performed with the only thing that memorable about LaKisha was the green dress and diamonds. Jordin Sparks blessed with a kilowatt smile, amazing vocals, an endearing gawkiness paired with a bright sense of humor. It is funny how she crouches down to be eye level with wee Seacrest. It seems to annoy him a little so that makes me like her even more. Her performance this week of the Shirley Bassey tune, "I (Who Have Nothing) was brilliant.
My assessment of the rest, for what it's worth: Phil Stacey tried to be Daughtry/Bo Bice in one performance, sadly he lacks their sex appeal. Blake infused his number with beat boxing to make it more contemporary, he knows what his fans and the judges like about him. It helped him too that the stage was lit in psychedelic colors giving him a retro vibe, but while his vocals are actually pretty good, he holds limited appeal for me. I find him self-indulgent and somewhat repetitive, but the guy has a thick fan base. Chris Sligh had the good sense to put his glasses back on, but flubbed cruising through the audience. I was thinking, "People, Sligh, those were people". He cruised past audience members like they were cardboard cut-outs, mere background to his music video. Gina Glocksen with her performance "Painted Black" reminded me somewhat of a Joan Jett. At least she did not wear a Mohawk hoodie like
Ryan Star
did on
Rock Star
. I never figured out what the hell that was about.
Next to go home is difficult to gauge with this group, it's pretty much week to week and performance to performance, but my guess, at this point, it could play out like this:
Jordin Sparks - to win
Blake Lewis
Melinda Doolittle
LaKisha Jones
Chris Sligh
Chris Richardson
Sanjaya
Gina Glocksen
Phil Stacey
Haley Scarnato