Why last night, Taylor Hicks was in Riverside, CA groovin' it up with "Gonna Move". Hicks performed at the
Red, White and Cruise Festival
. Fortunately for the fans NOT in California, someone captured this for the Youtubers. Sound could be better but hey, man, beggars can't be chosers. Or something like that.
"Gonna Move" Taylor Hicks
Shortly before his appearance at this California gig he was seen in Mexico from what the TMZ.com folks say,
"Where in the world is Taylor Hicks, why he's been in Mexico."
. I have read some folks on the fansites say that isn't he, but I'd know those legs anyplace. His feet do look a bit small in the article photo.
Taylor Hicks has this chameleon ability to look differently depending how he's photographed. I have that same characteristic, as do many people. I mean, could you think this guy featured in the left photo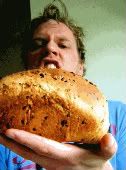 the same guy as the one on the right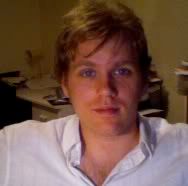 ?
He's quite The animal when it comes to bread, apparently.
Next stop for Mr. Hicks, he's on the road again as
Grease resumes July 7th
.