Video from Tara27 Stadium of Fire in Provo Utah, Taylor performs with his harmonica and acoustic guitar one of his own tunes, "The Deal", from his CD "Under the Radar".
The Deseret News
had a review posted from the Fourth of July Spectacular, with a nice review on Taylor Hicks stealing the show,
It was gray-haired "American Idol" winner Taylor Hicks, who stole the show with his growling harmonica and soulful singing
.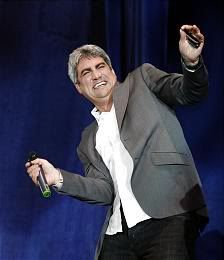 This Event is broadcast to the troops via
Pentagon Channel.mil
for our troops to watch. The crowd was asked to show their support for American troops around the world by text messaging a special number. According to the listing on the website, this concert will be rerun at 2100 hrs (today, 9:00 p.m.ET)- Stadium of Fire: Coverage of America's Freedom Festival featuring performances by Taylor Hicks, Lee Ann Womack and Keni Thomas. (2 hrs) Encore presentation Tuesday at 1400 hrs(2:00 p.m.).