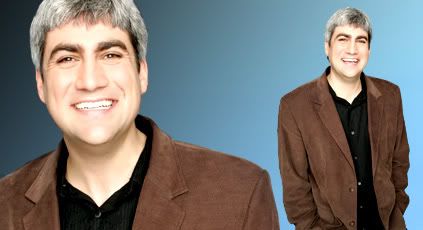 Taylor Hicks has not even had his first competition performance and he is already garnering a big buzz. And nicknames. Take Mary Colurso's article dated today;
"Soul patrolman"
..."Struggling and scraping have been his lot since age 18, when Hicks performed one of his first professional concerts at the Flora-Bama Lounge & Package Store in Perdido Key. He was inexperienced and green, while already sporting the prematurely gray hair that has become his trademark.
But Hicks had a talent for the harmonica and a love of classic tunes by R&B greats such as Ray Charles, Sam Cooke and Etta James.
"Taylor always liked the blues," recalls his grandmother, Joni Hicks, 78, of Gulf Shores. "I can remember him at age 12, bursting in the room doing a Mick Jagger strut. He'd say, `Grandmother, you've got to hear this!' And then he'd play `Try a Little Tenderness' by Otis Redding. What other kid do you know who does that?"
What is it with Alabama musicians and their Grandmothers. Must be that Southern upbringing. Makes a kind and respectful man out of a boy.
Taylor Hicks explains in Ms. Colurso's article:
"..."I can't read music," he says. "I can feel it, though. I started playing and the notes made sense. That was it for me. I knew that if I put my mind to it, I could be good at this." "Bo (Bice) broke it open for somebody like Taylor to be looked at as a possible `American Idol' winner," says Sam Gunderson, 32, the guitarist in Hicks' band. "He's not a cookie-cutter pop singer, but he has a dynamic they need to make the show interesting. He's a consummate professional. And he can pretty much sing anything." Hicks says producers for the show, Ken Warwick and Nigel Lythgoe, have encouraged him to be as flamboyant on camera as he might be in the grittiest Southern saloon. During his audition for the judges in Las Vegas, for example, Hicks says he first approached Randy Jackson, Paula Abdul and Simon Cowell in a subdued manner.
Warwick and Lythgoe, who had seen Hicks in earlier rounds, missed the Joe Cocker homage and Ray Charles movements they'd seen him perform before."
Hicks is the most interesting individual to date on American Idol. This is a man without any musical training, just a natural gift, a young man with already silvered hair that sings like an old bluesman. Interesting, intriguing. American Idol does it again, and hooks me in...